Despite the ever-growing forest of towers and townhouses slowly engulfing the city, there are still a few buildings here and there that have survived the wrecking ball. I've spent these last few weeks of solitary confinement combing through Vancouver's photo archives looking for some evidence that Vancouver actually did have an architectural past. Not a glorious, castles-and-chateaus kind of past like some places, but a good solid century of civilization.
I have found quite a few buildings and landmarks that are still recognizable today, and have lined them up with a current photograph from the same location. At least I've tried to. It's hard to accurately replicate the location, height, and focal length of the original shot, so in many cases the perspectives are a little off. One thing I've noticed: there are a hell of a lot more trees now than there were then, and they get in the way of a lot of my shots!
Here are a few, and I will continue adding more as long as I'm allowed outside. (If you didn't figure it out already, you can use the slider to swipe between the old and new images.) My thanks to the City of Vancouver Archives, the Vancouver Heritage Foundation, and a number of blogs that have chronicled the history of these structures much better than I have. Note: The pictures are quite big and it might take a moment for them to show up on your phone, so just be patient.
Added June 28, 2020.
Burns Block, 1927 and 2020.
A survivor from 1909, Burns Block outlived its next door neighbour the Pantages Theatre, a popular movie and vaudeville house. On Google Maps you can make out the triangular shape of the building, caused partly by a rail line right-of-way (whose ghostly footprint can still be seen, cutting diagonally through several city blocks). Today you can rent a 236 square foot micro-loft and live downtown for cheap! (You might notice I really cheated on the perspective of this shot: the original was shot from a window in the building across the street, and I was on the ground.)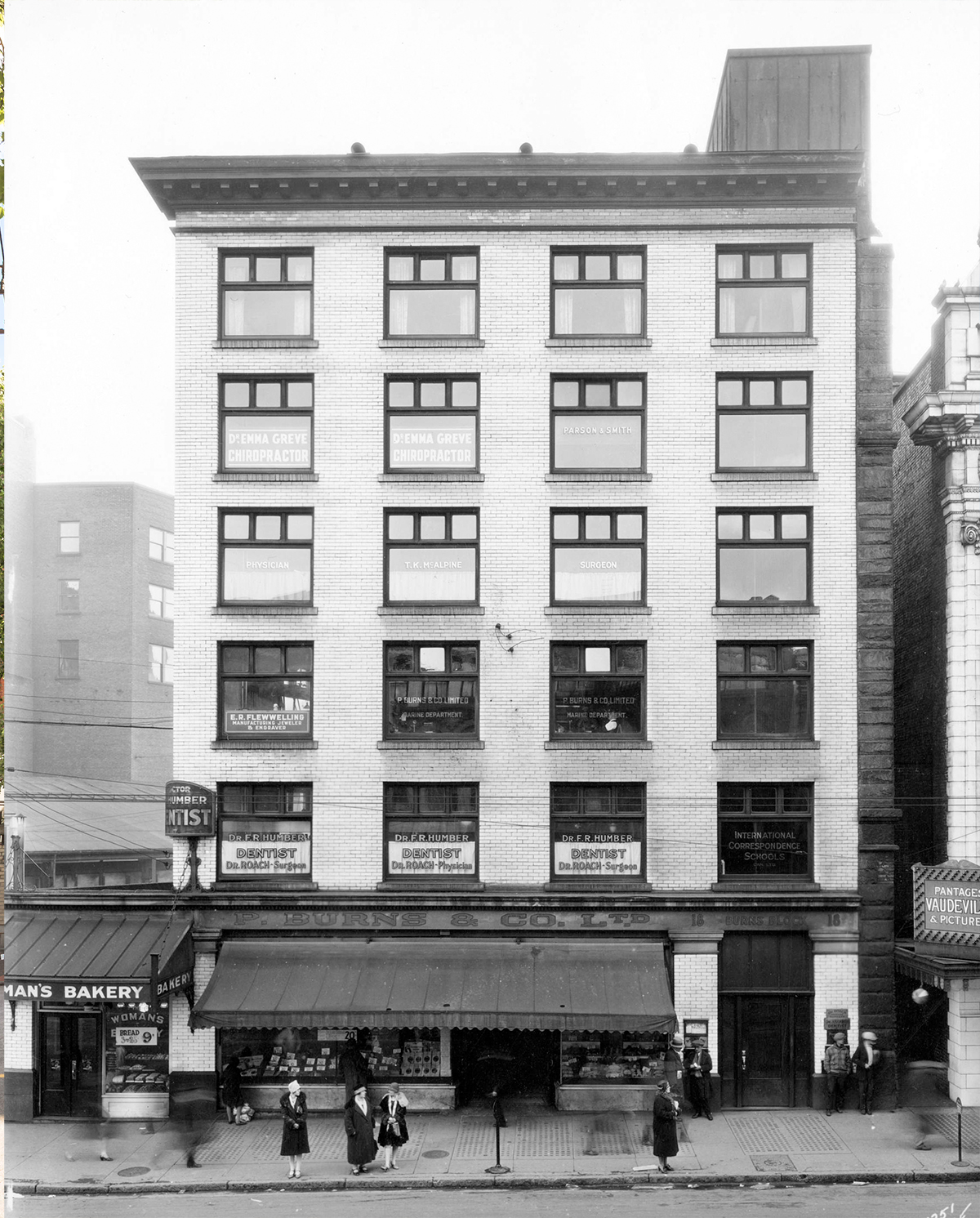 Added June 19, 2020.
100 East Hastings Street, 1931 and 2020.
This is one of Vancouver's oldest wooden buildings. When it was built sometime around 1890, it stood "alone in the bushes of Hastings Street; there were some Chinese shacks on Dupont Street near it, but on Hastings Street it was the only building."  It was badly damaged during the Chinatown riots in 1908 but somehow managed to survive that and everything else that subsequent years threw at it.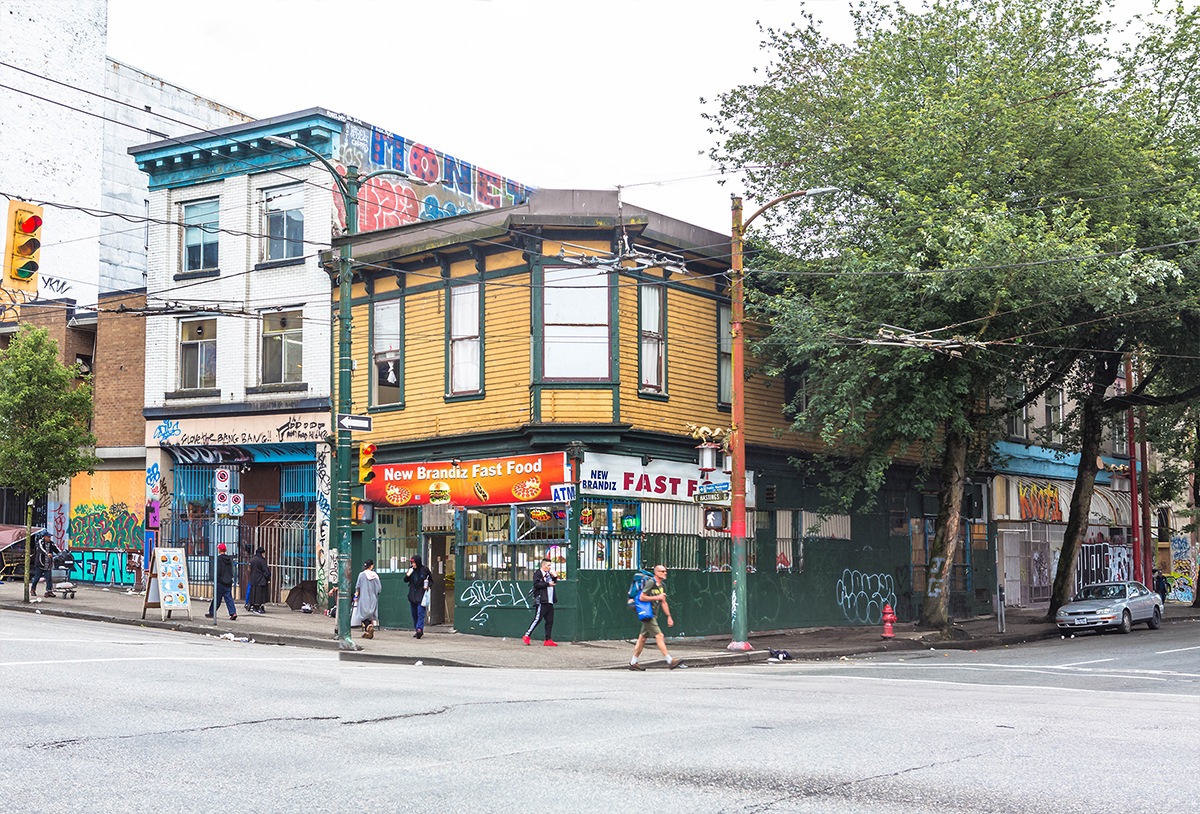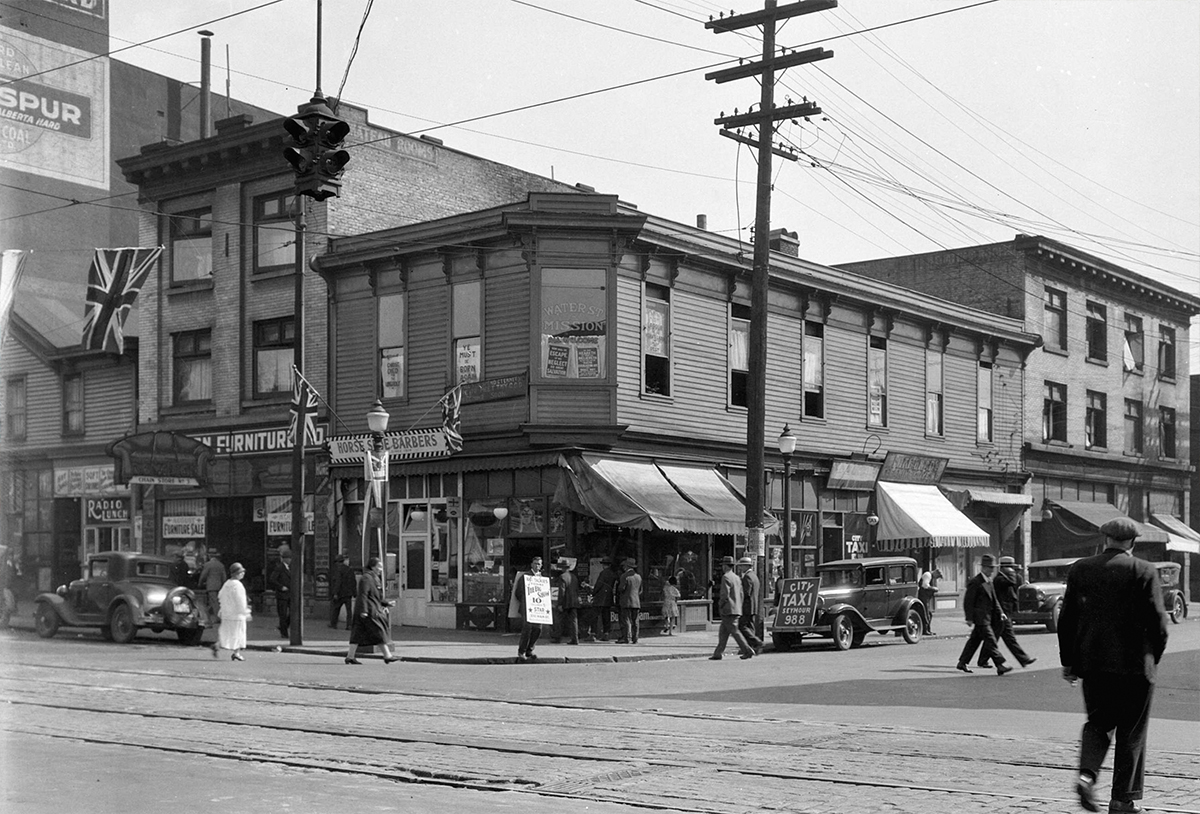 200 Carrall, 1887 and 2020.
The Second Fergusson Block was built just a year after the first one burned down in the Gastown Fire of 1886. When it was finished, lawyers moved in upstairs and A.M. Tyson sold 'Gents Furnishings' on the main floor. Today it's a restaurant up and a clothing store down.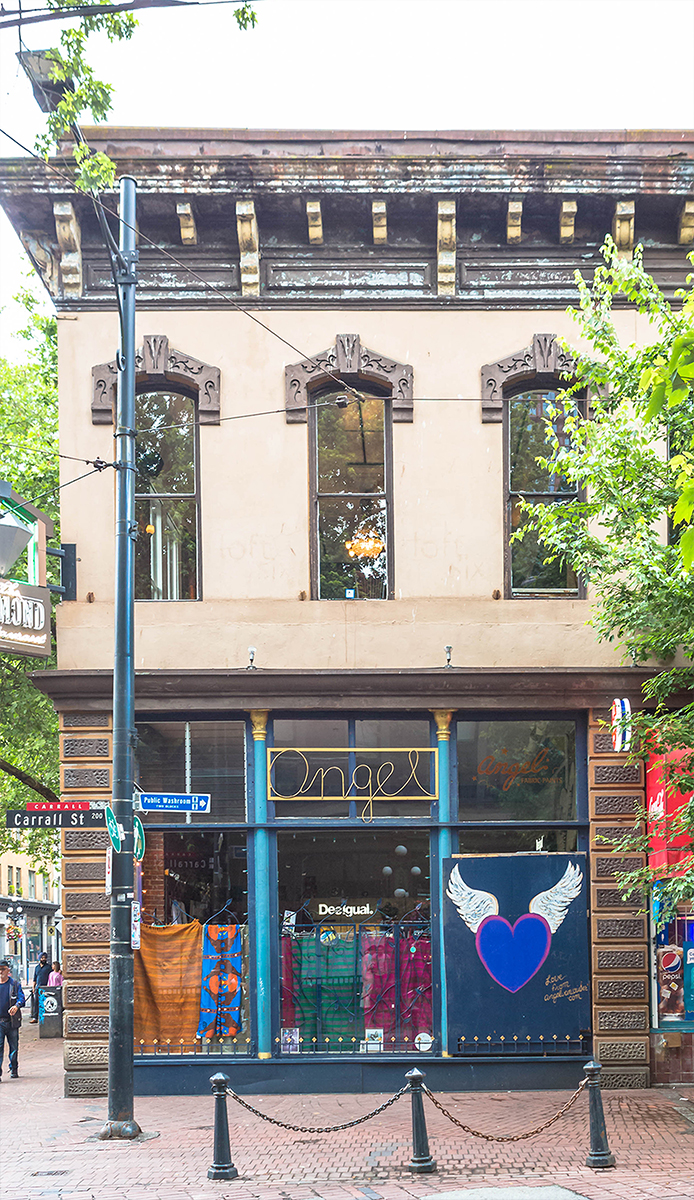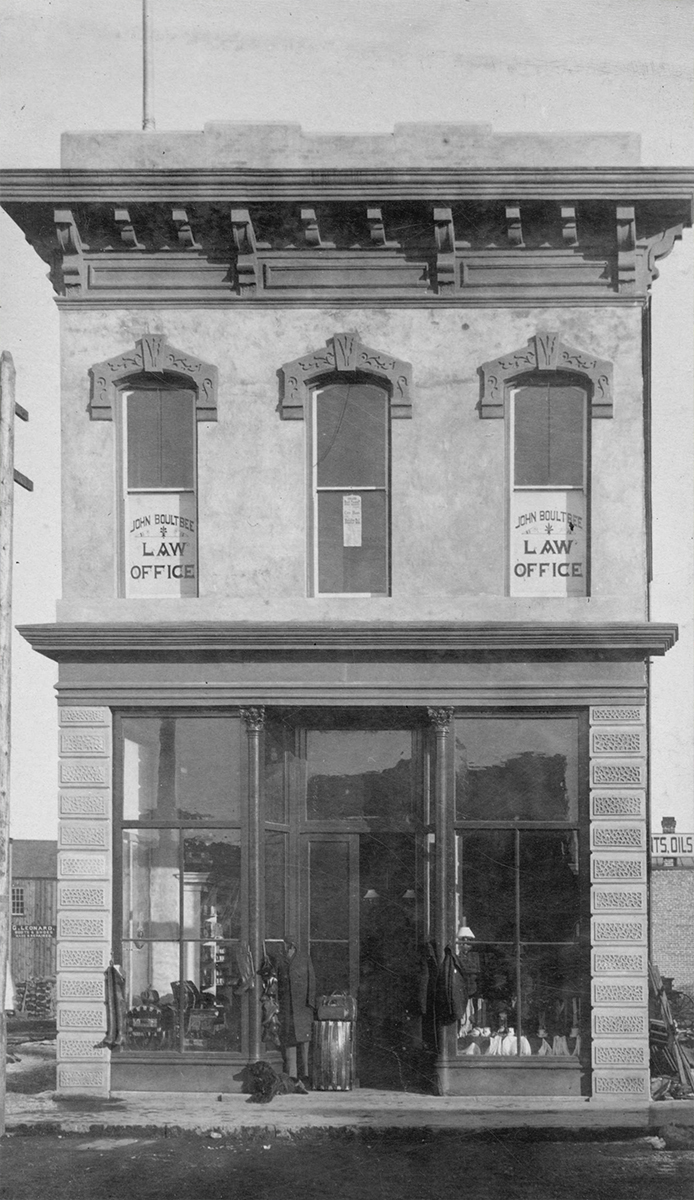 Added June 15, 2020.
Naffzinger Block, 1912 and 2020.
Almost unrecognizable today, the Naffzinger Block has lost its proud cornice, and the bricks have been painted over so many times they no longer look like bricks. The retail tenants at the time this 1912 picture was taken were Melvin H. Clapp Shoemaker and Robert G. Woods Candies, now replaced by a yoga studio and hair salon. Notice that West Broadway was still a dirt road.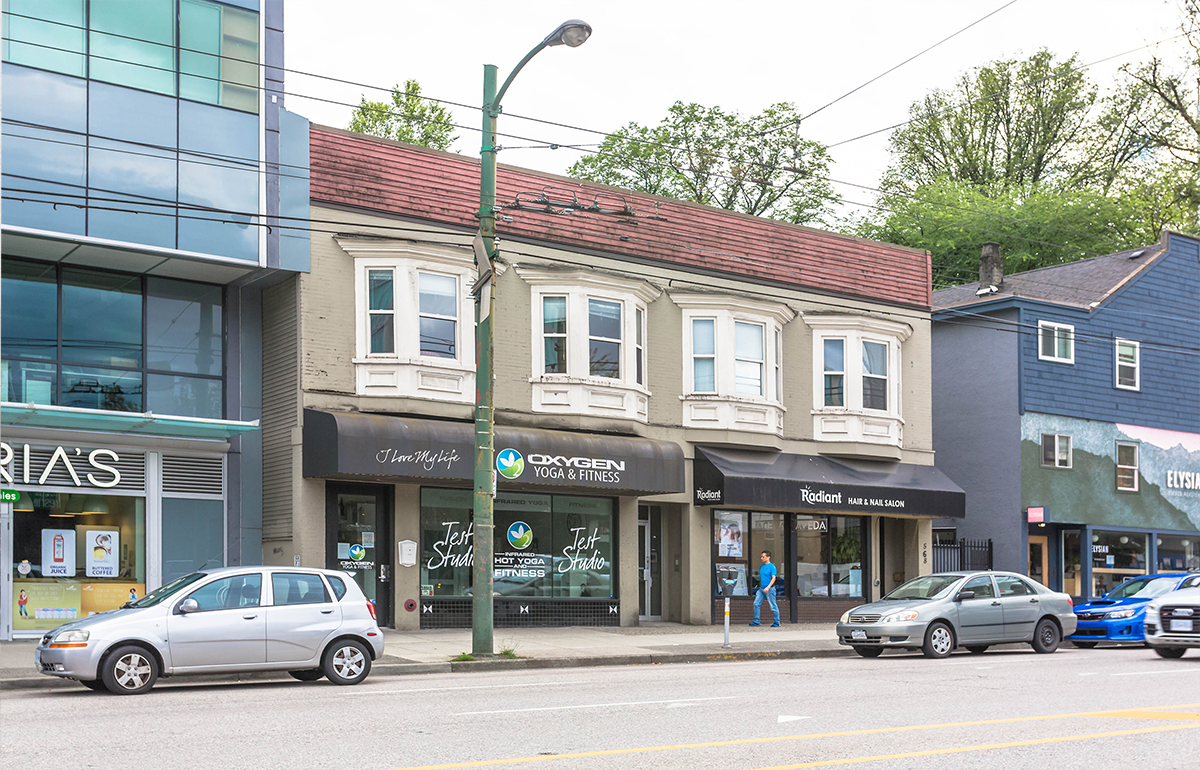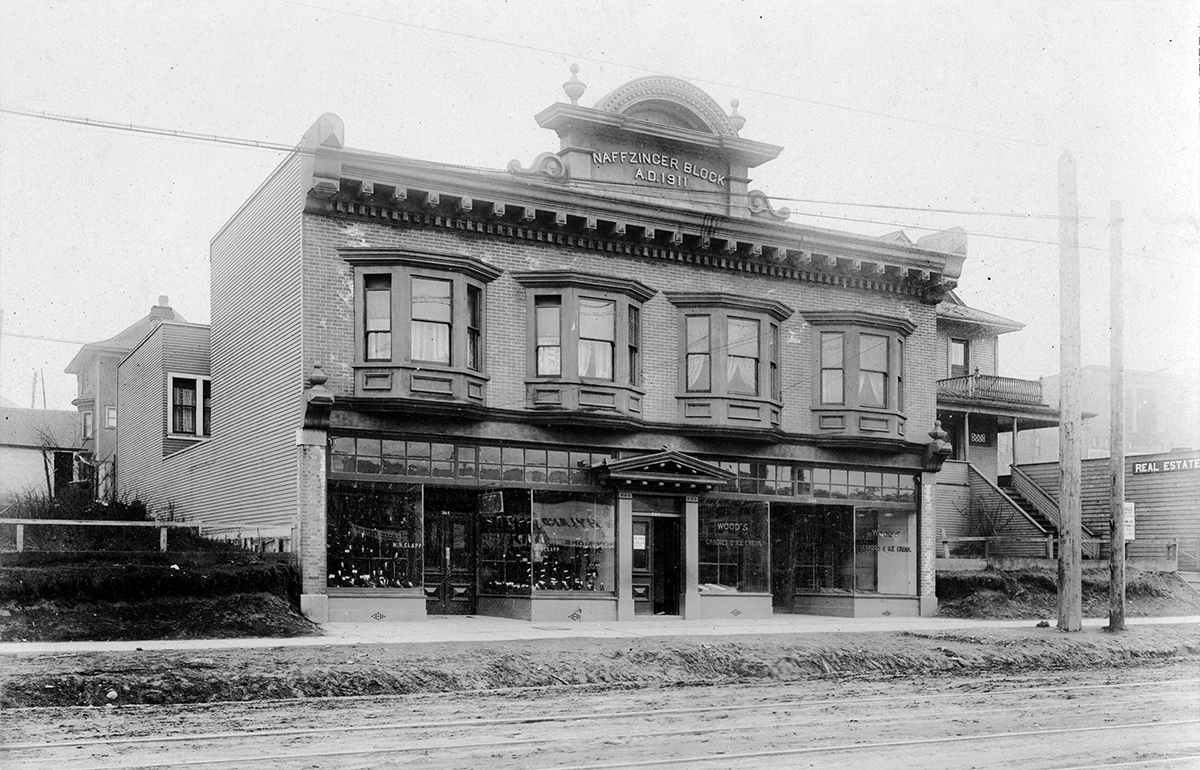 Esquire Cafe, 1940s and 2020.
In the 1940s this stretch of Granville Street was Theatre Row, and movie patrons could go to the Esquire to enjoy a nice pork chop, or get their tea leaves read by Madam Lucille. Time has not been kind to this building. I wonder if all that beautiful neon signage survived somewhere?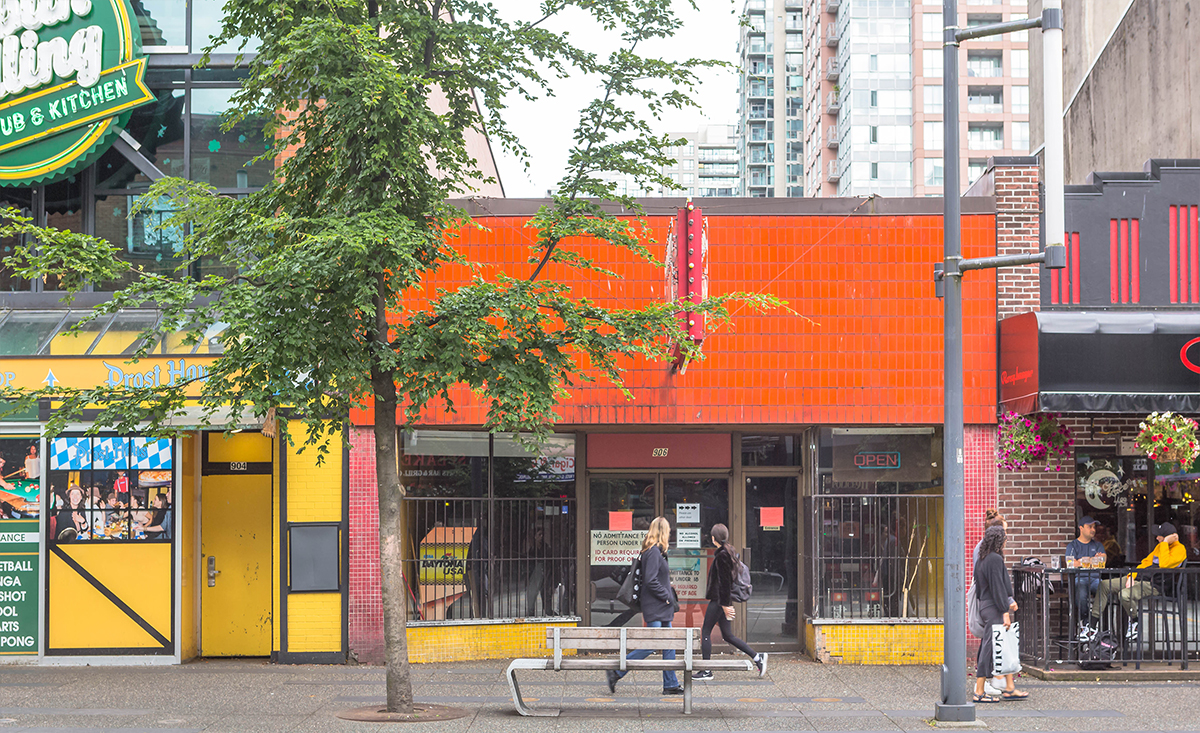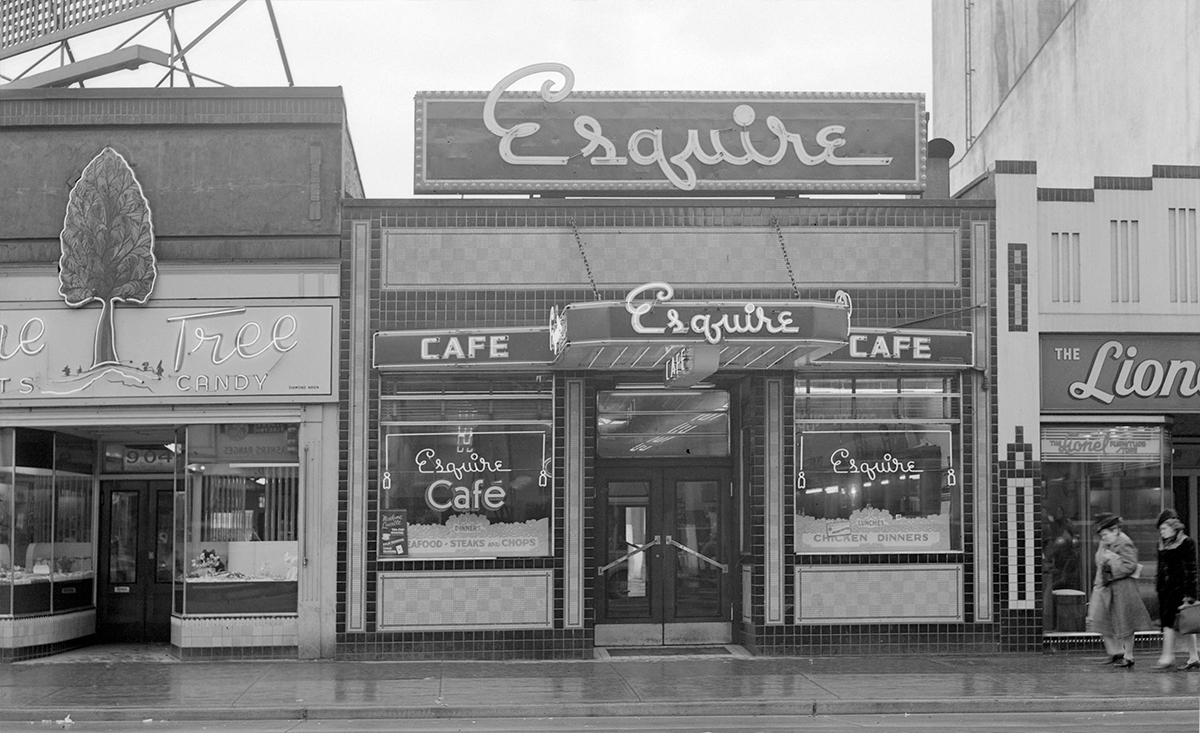 Added June 14, 2020.
Glenhaven Memorial Chapel, 1978 and 2020.
I'm old enough to remember 1978 pretty clearly. It doesn't seem that long ago to me. But in these pictures, it feels like a lifetime has passed. Even the road is slumping in the recent picture. The funeral home that once occupied this spot has moved a few blocks down the road to a more dignified address.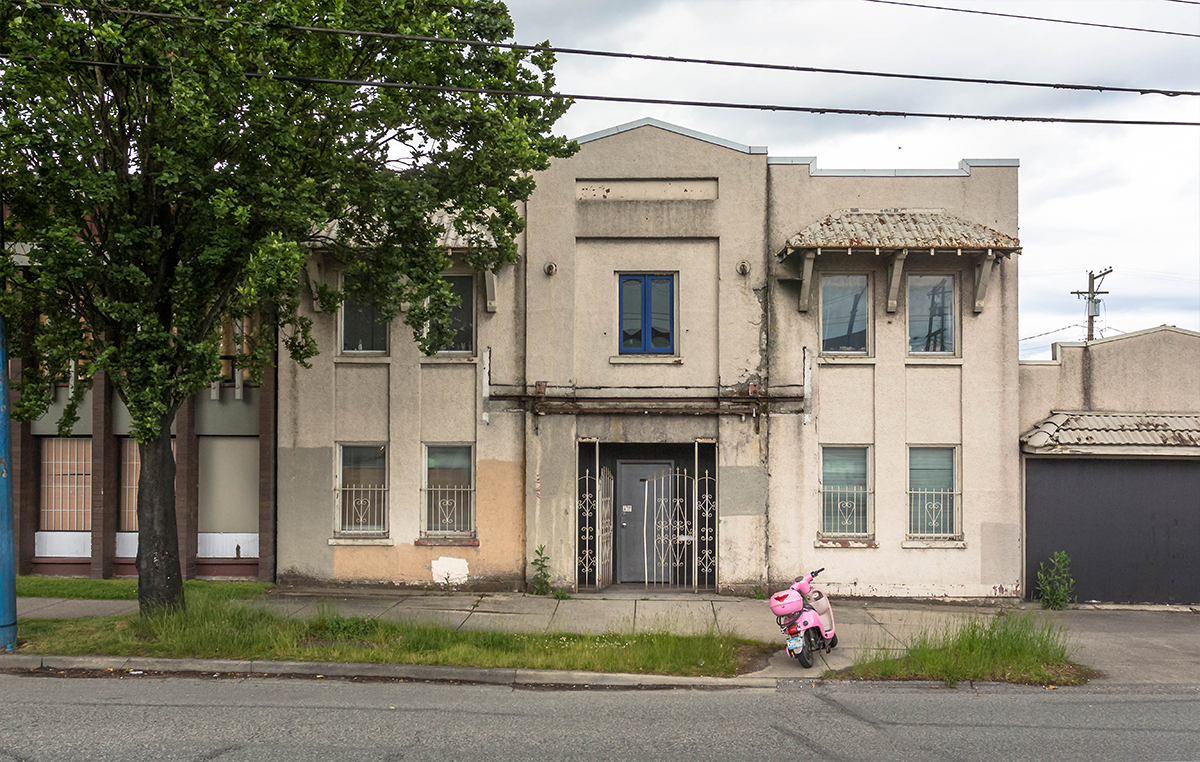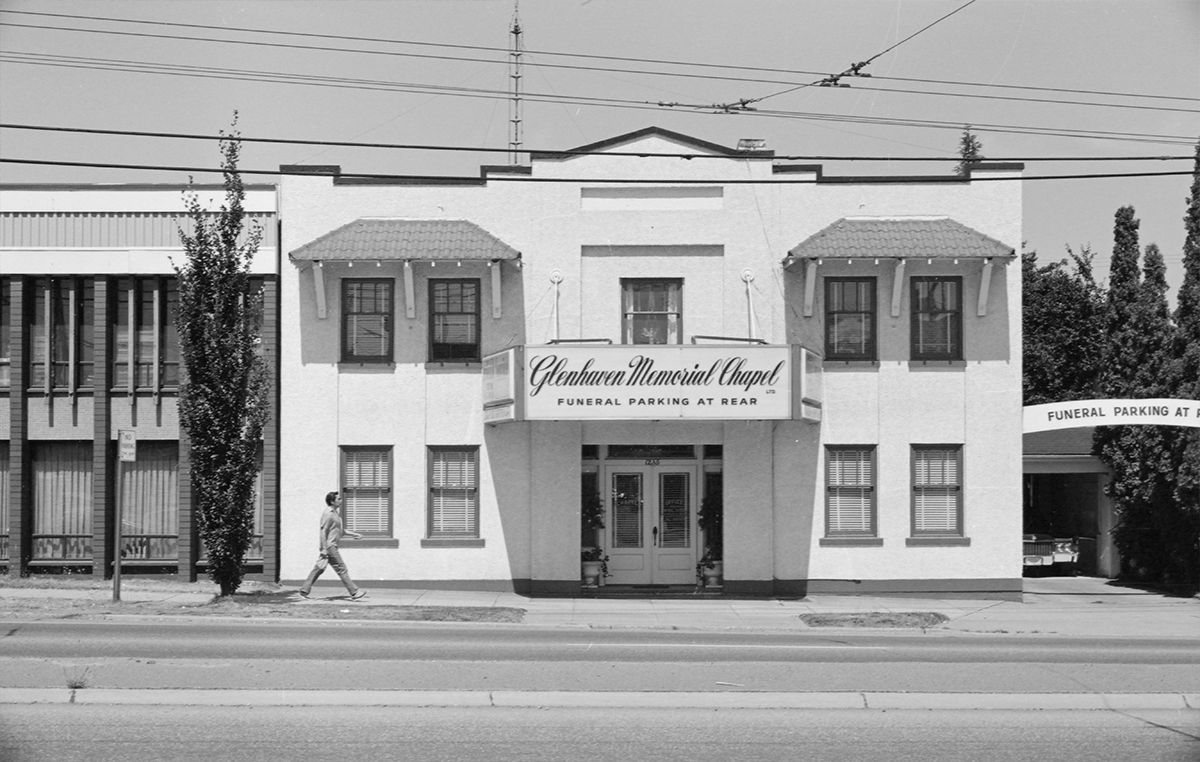 Added June 13, 2020.
Stanley Park Pavilion, 1912 and 2020.
The Pavilion is Stanley Park's oldest structure, and was originally built as a concession stand in 1911. It has been a venue for thousands of dinners, parties, and wedding receptions, none of which I ever attended. In fact, I had never seen the outside of it, let alone the inside, until the other day, when I walked the grounds virtually alone. It's an impressive and iconic place with strong links to the history of Vancouver, and I look forward to spending more time there.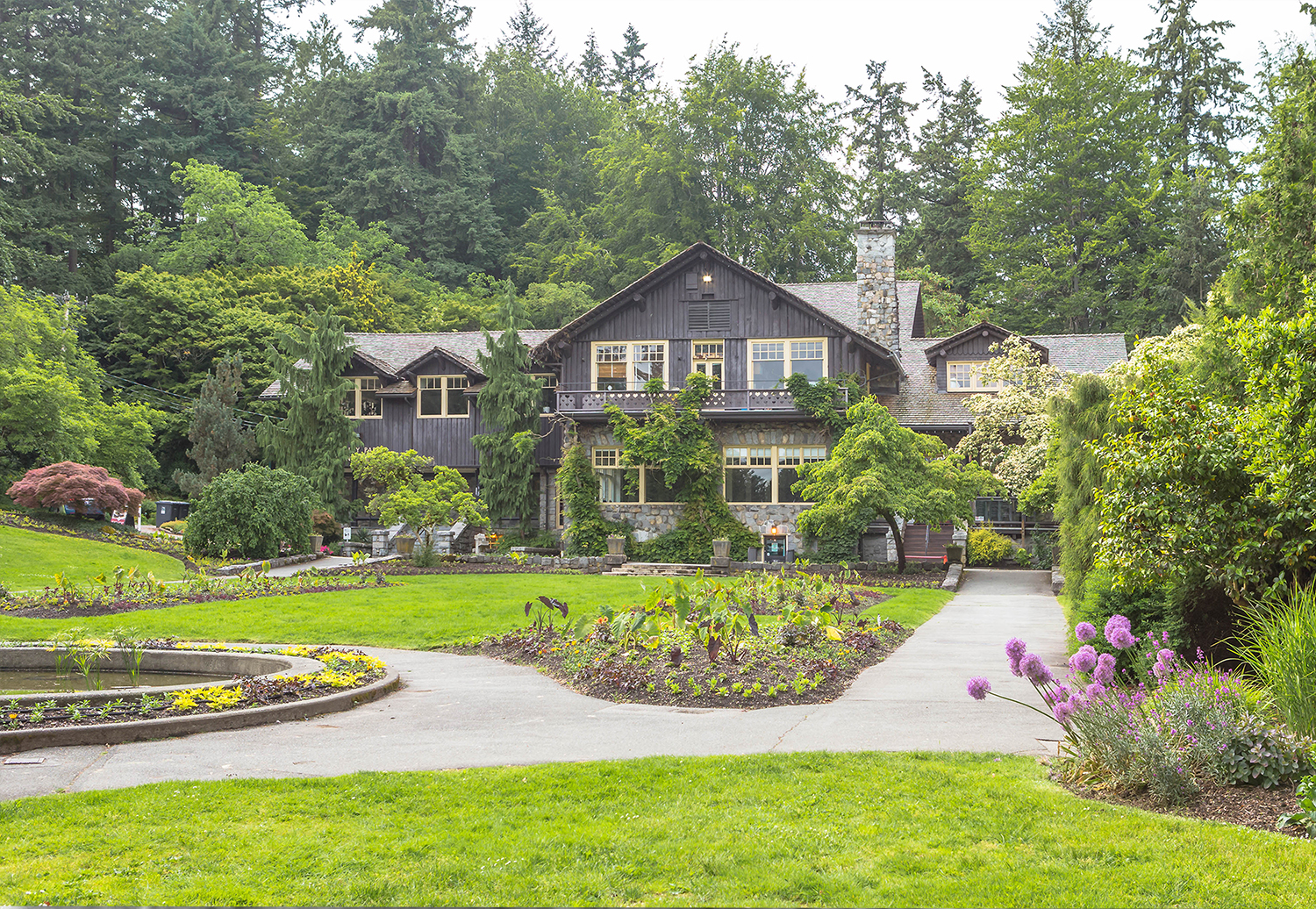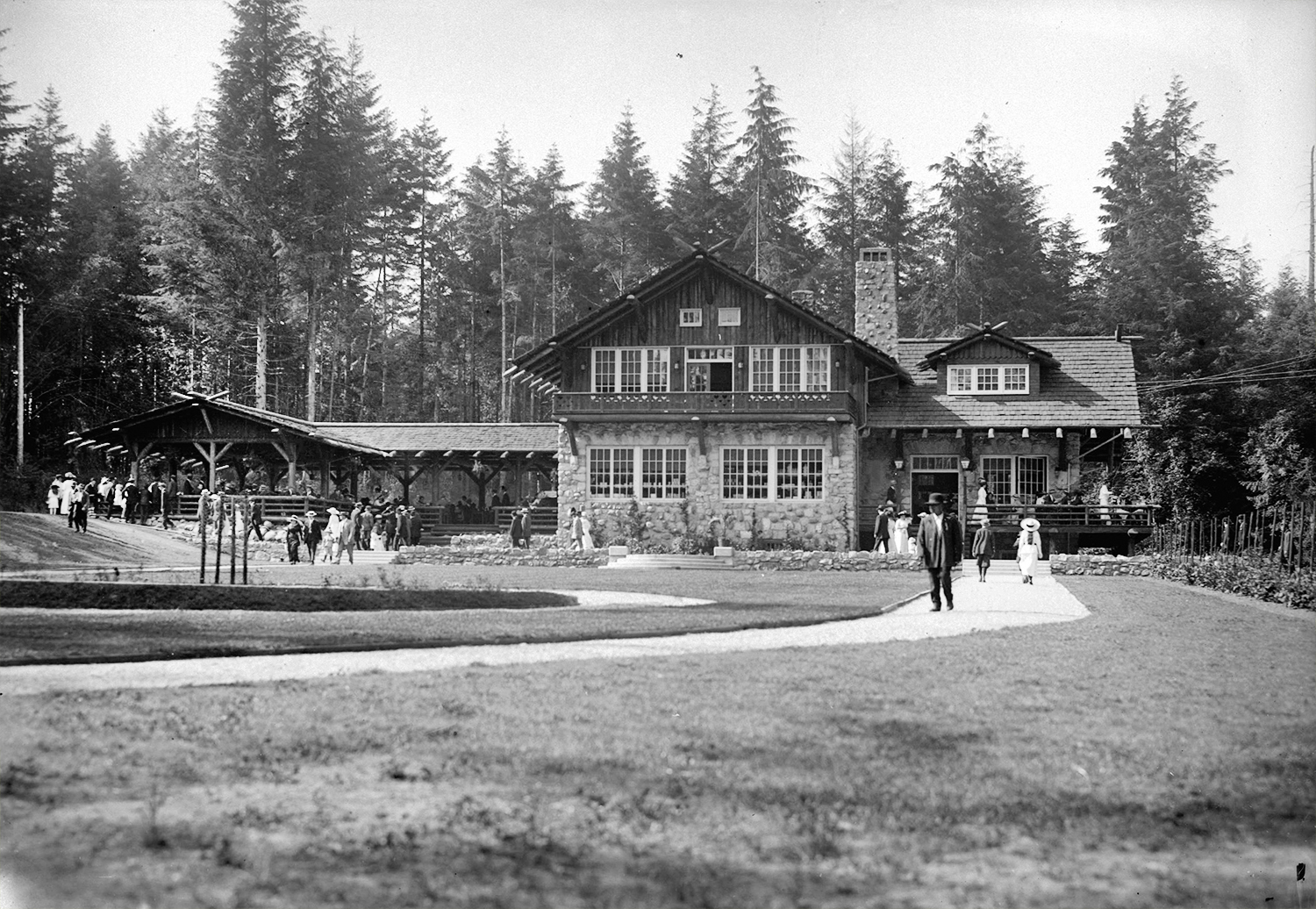 470 West Hastings, 1940 and 2020.
In this one small corner of the city you could find dentists, cigars, typewriters, clothiers, a drug store, and an accordion school back in the day. Today it's pretty much one big coffee shop.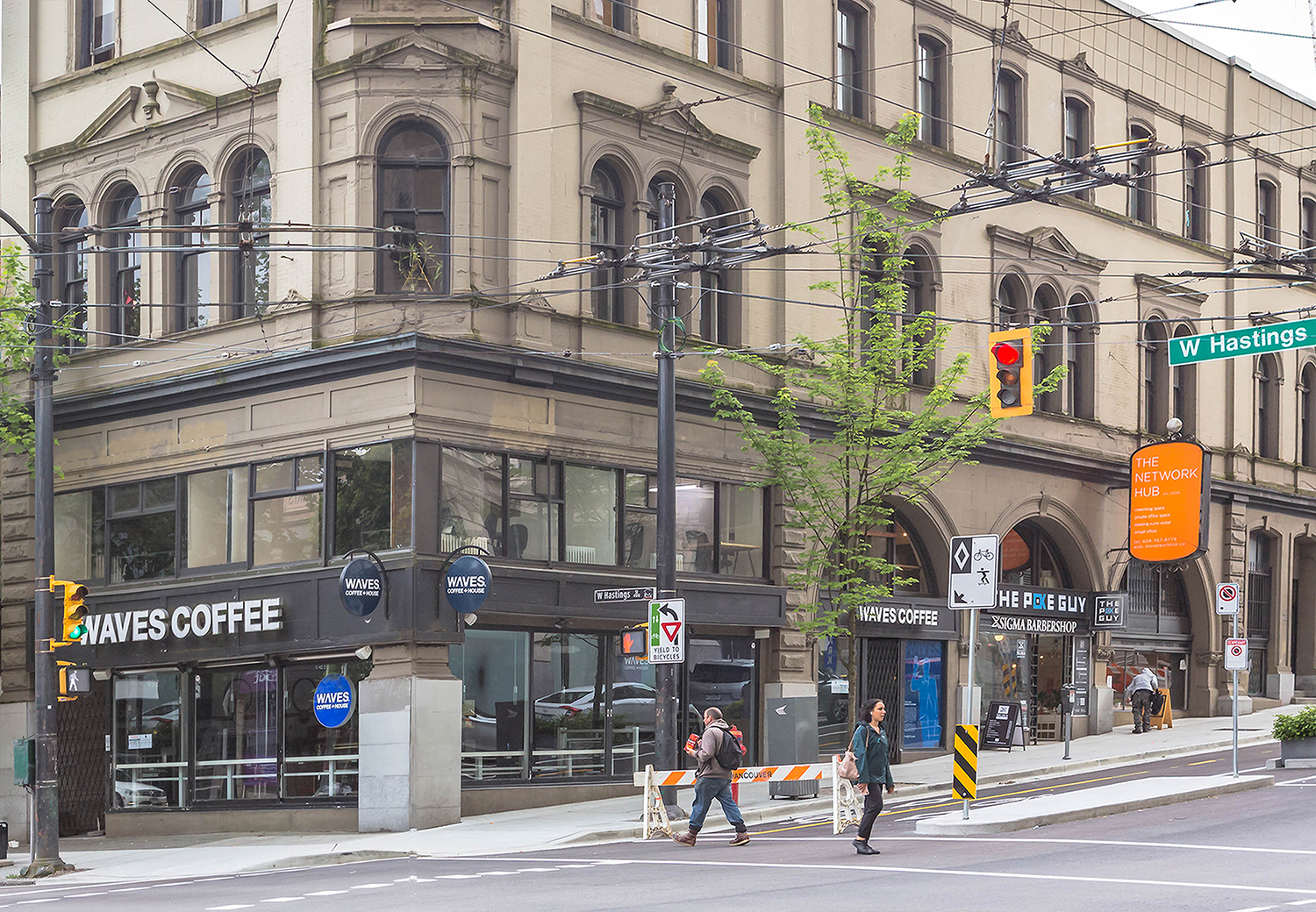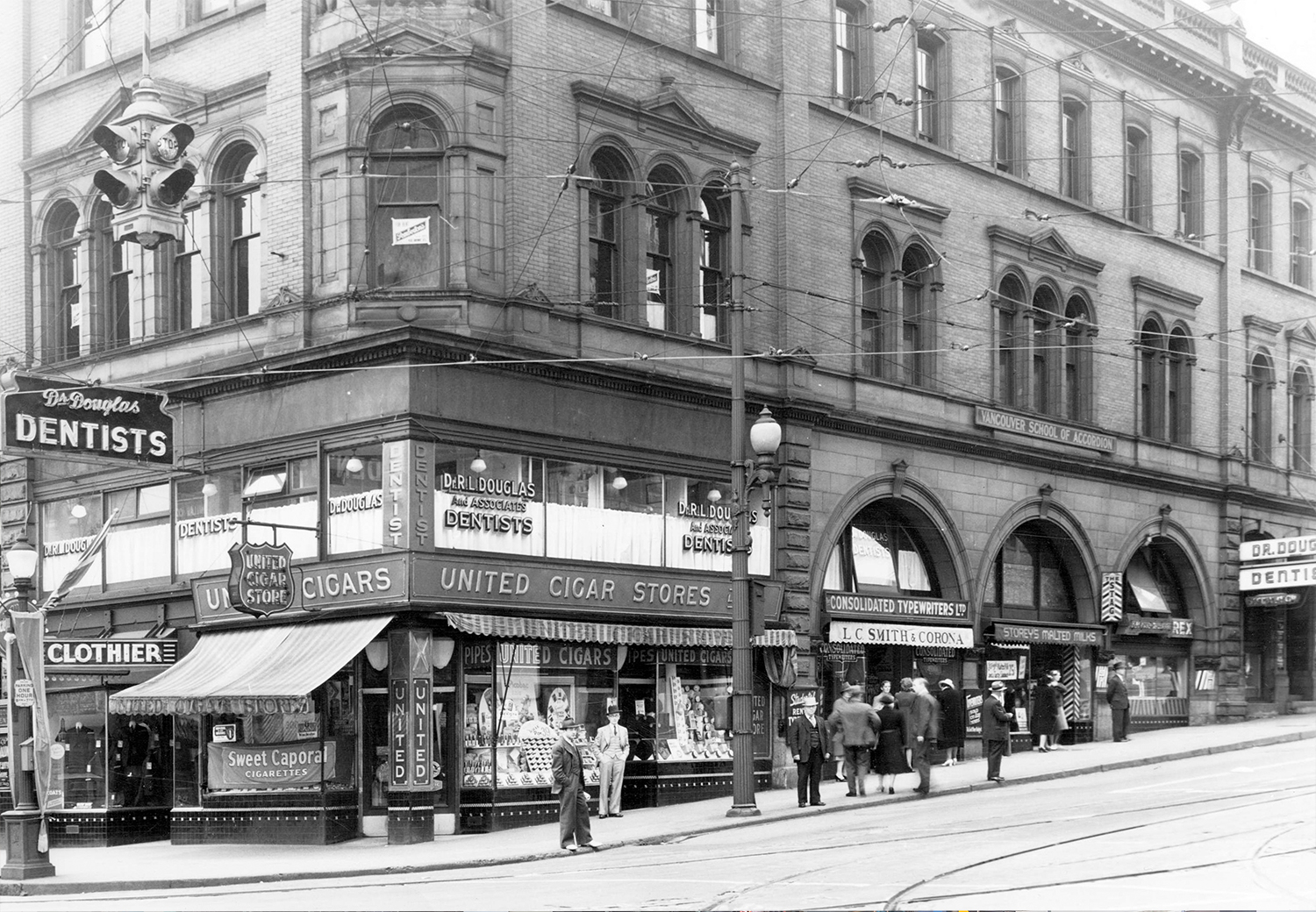 Added June 9, 2020
315 East Broadway, 1978 and 2020.
According to the sign on the building, you could dance to Latin-American music at the Blue Star Restaurant and Cafe.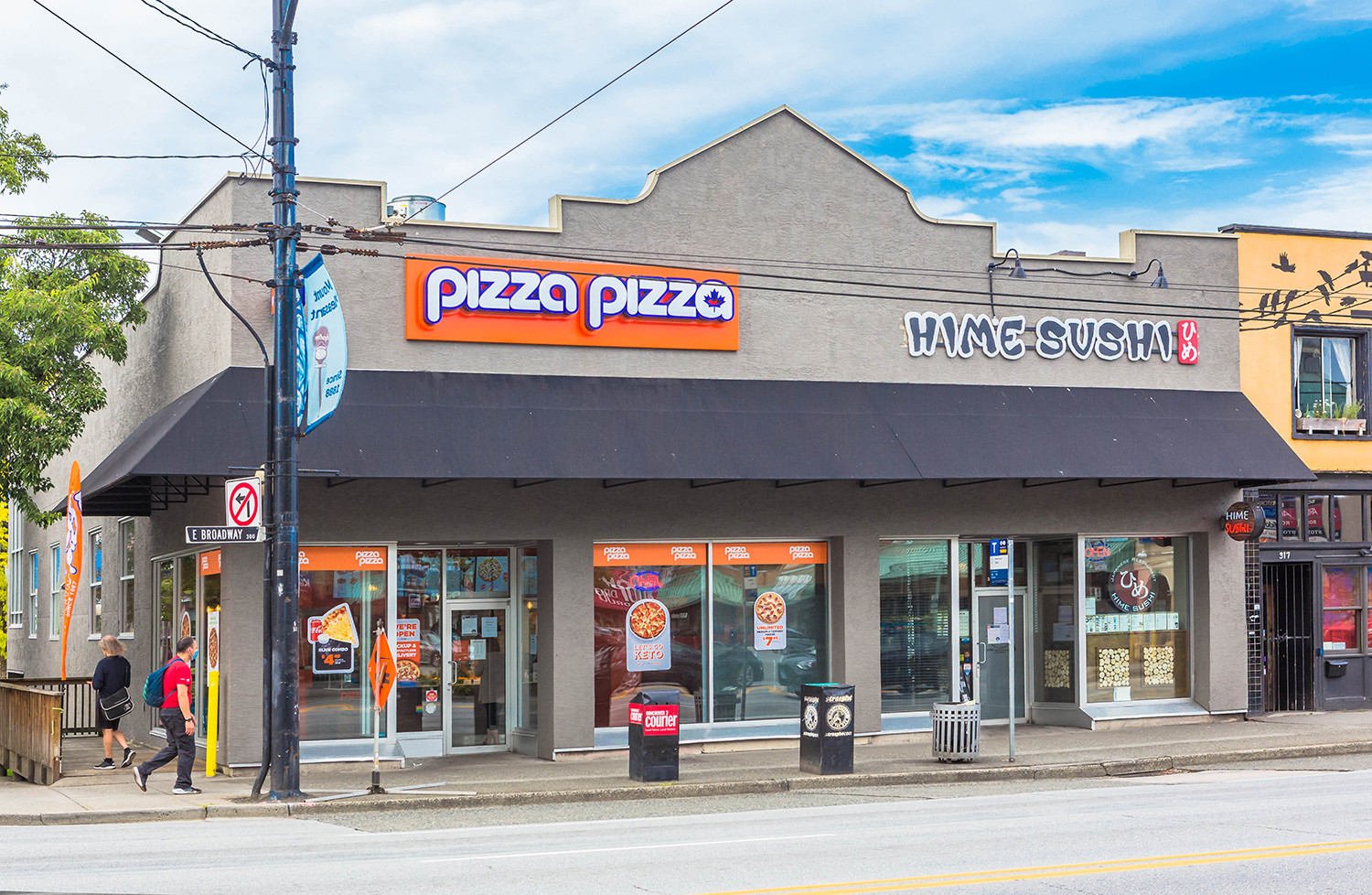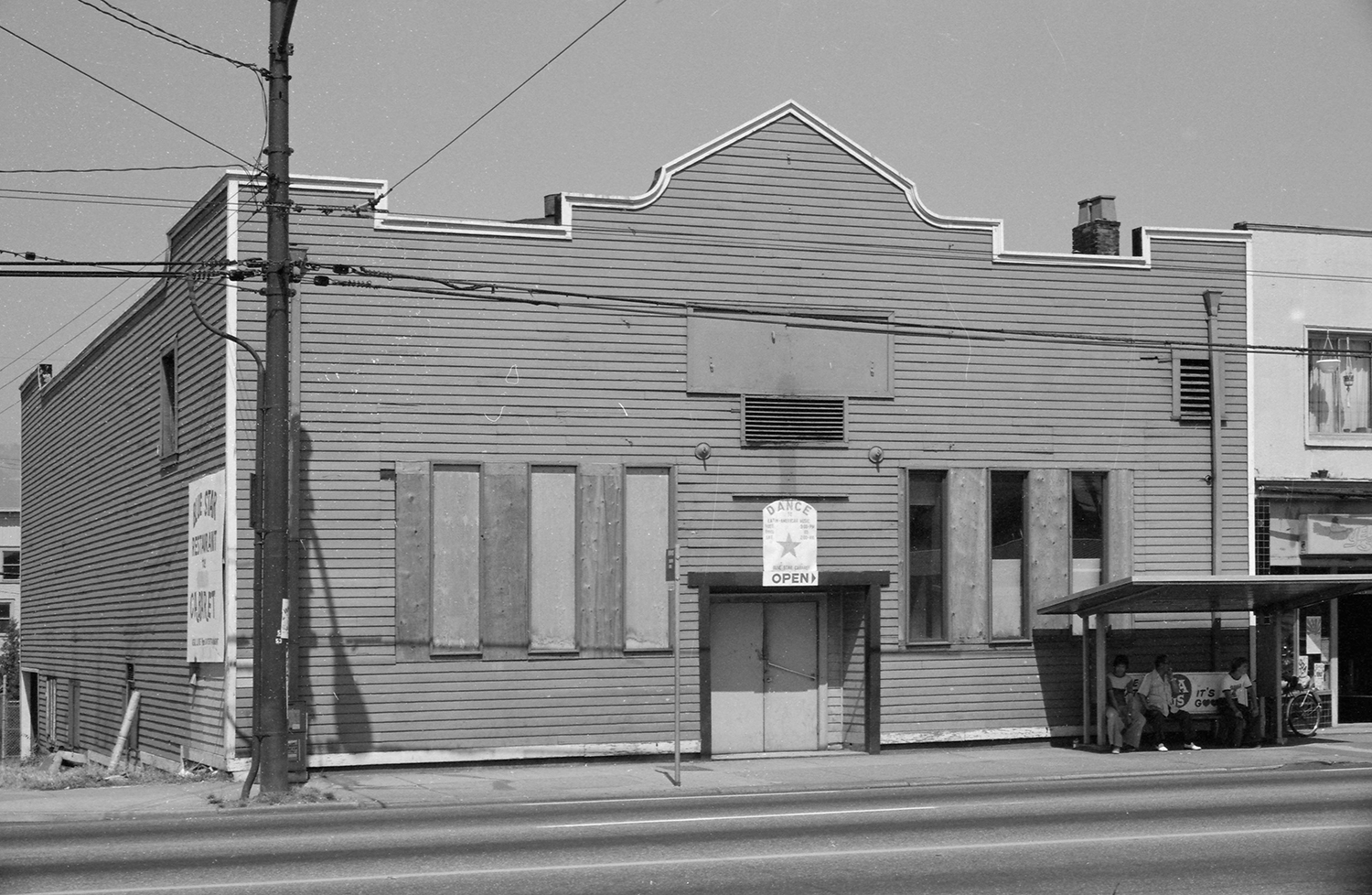 Royal Bank, Fairview Branch, 1908 and 2020.
Back when this picture was taken, people drove on the left side of the road, Emily Carr taught painting a few blocks away, and you could buy a lot in Shaughnessy Heights for $50.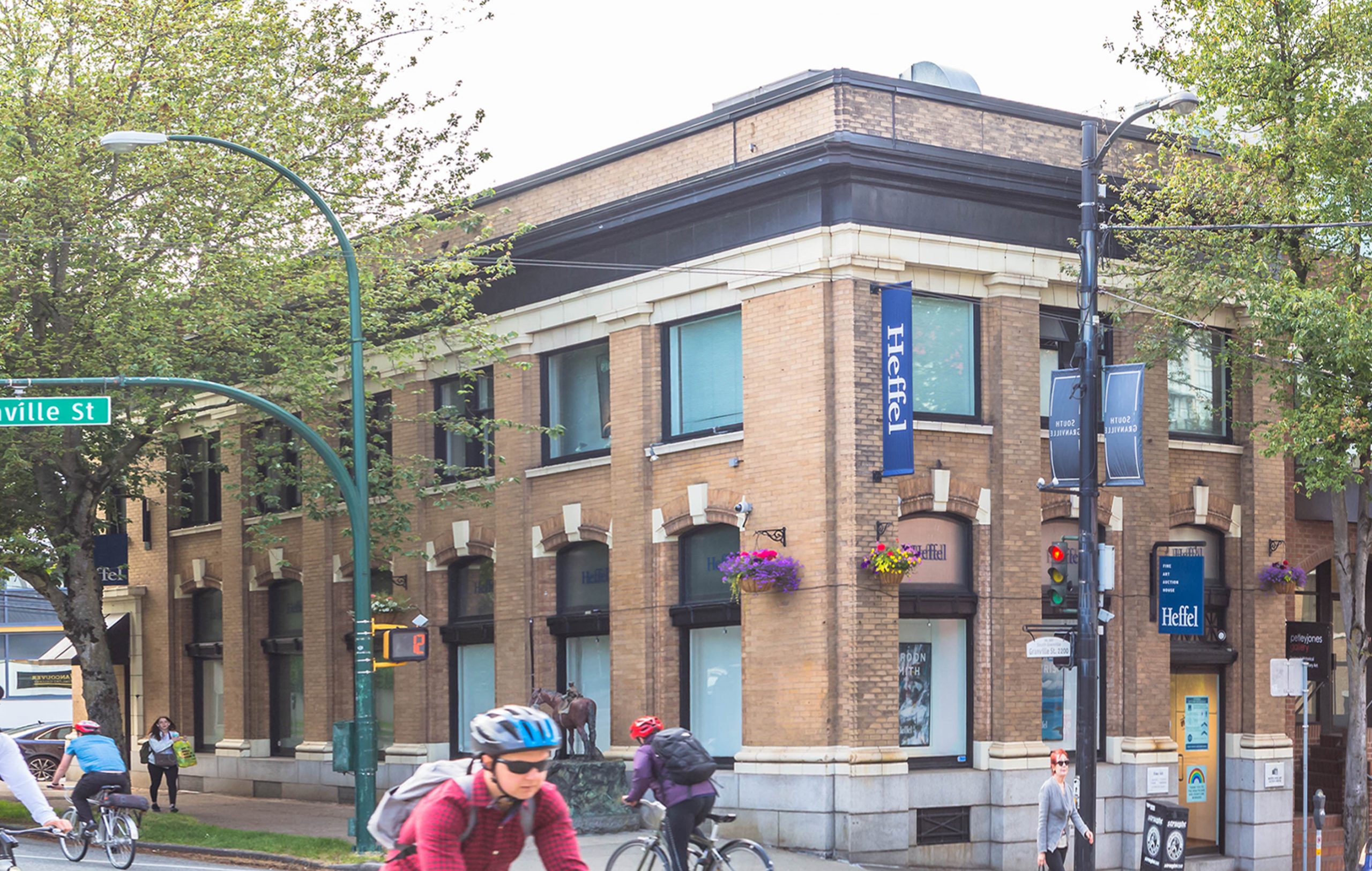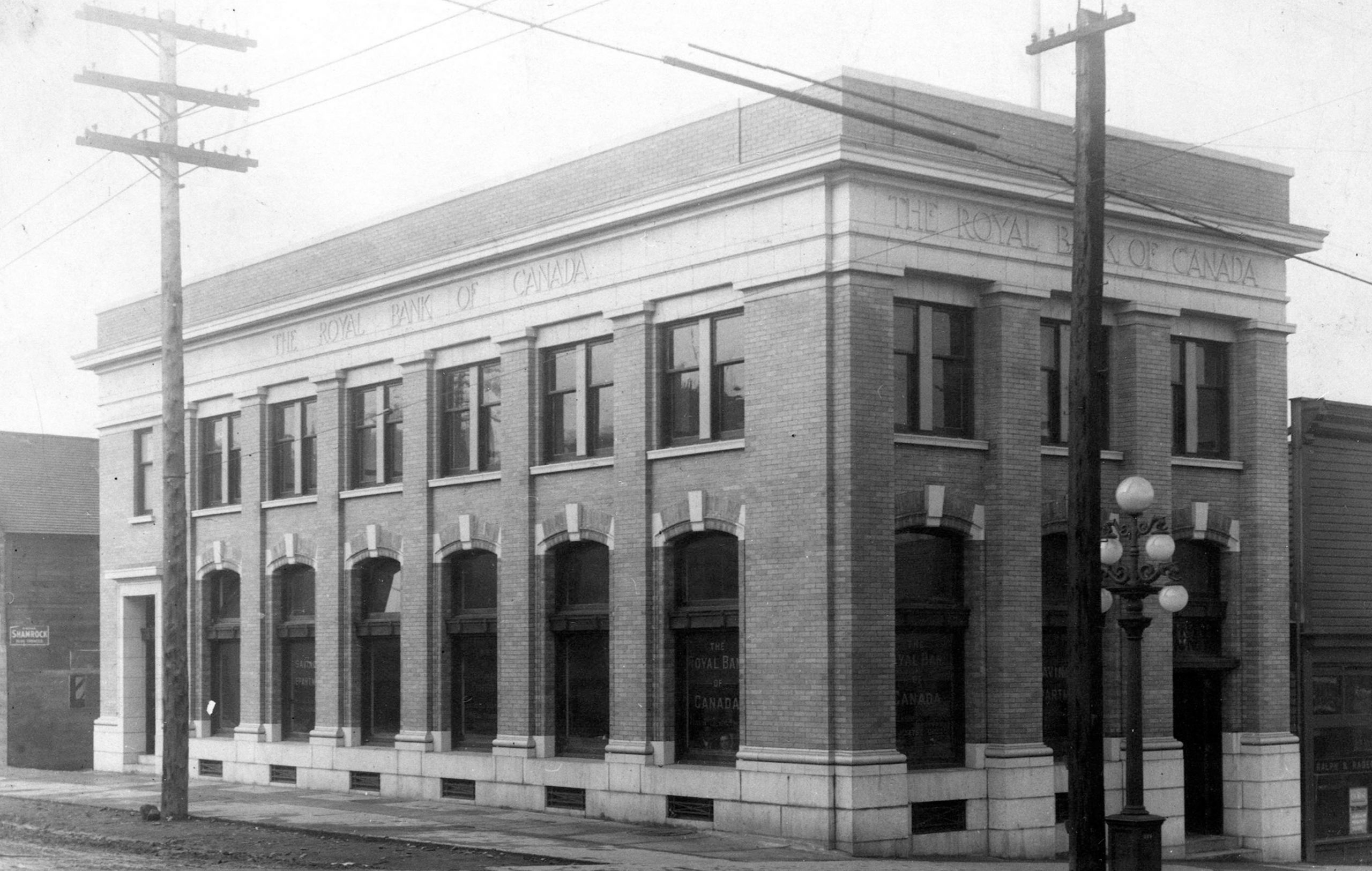 323 East Broadway, 1975 and 2020.
One of the last private homes on this part of Broadway. Photo courtesy City of Vancouver.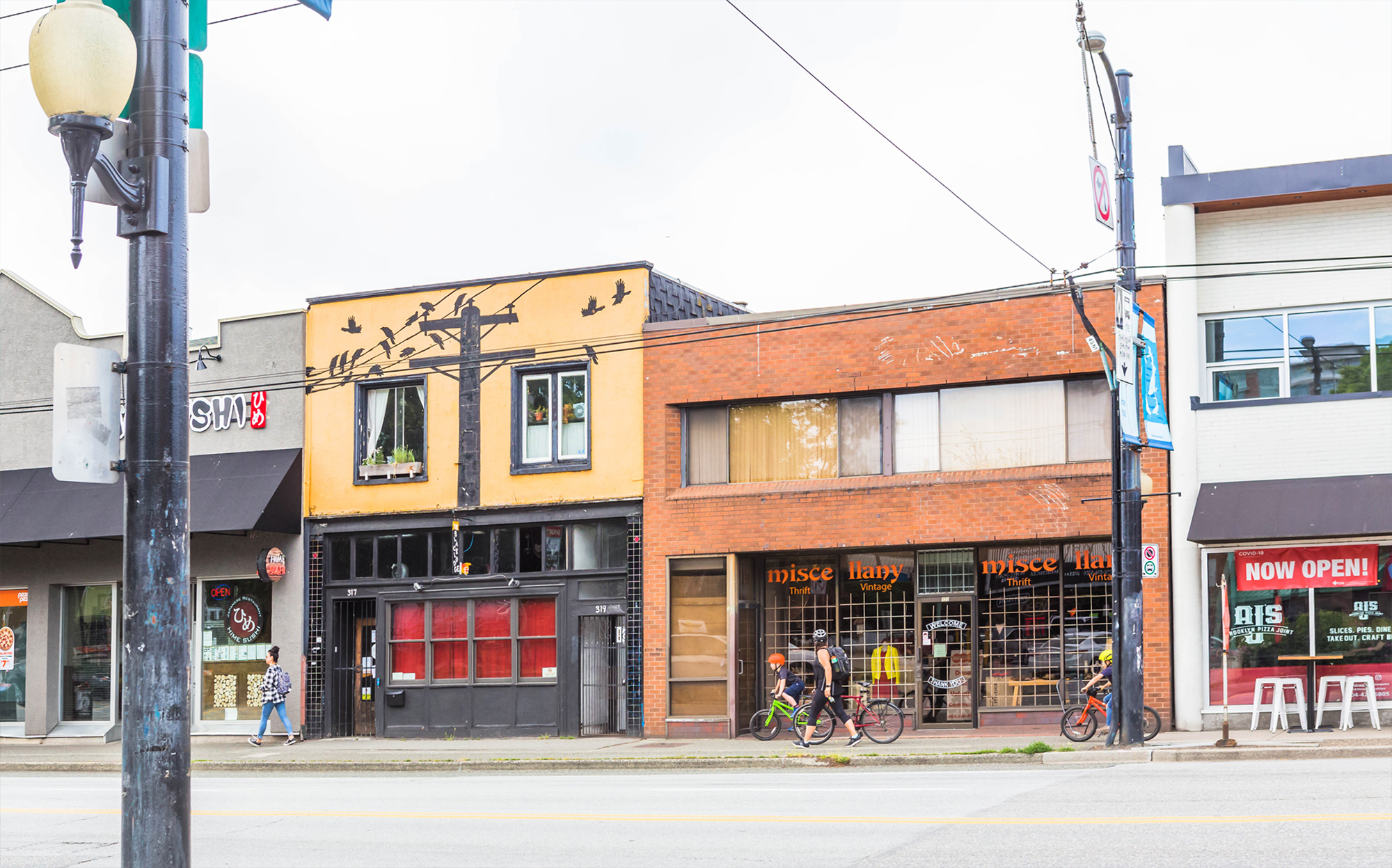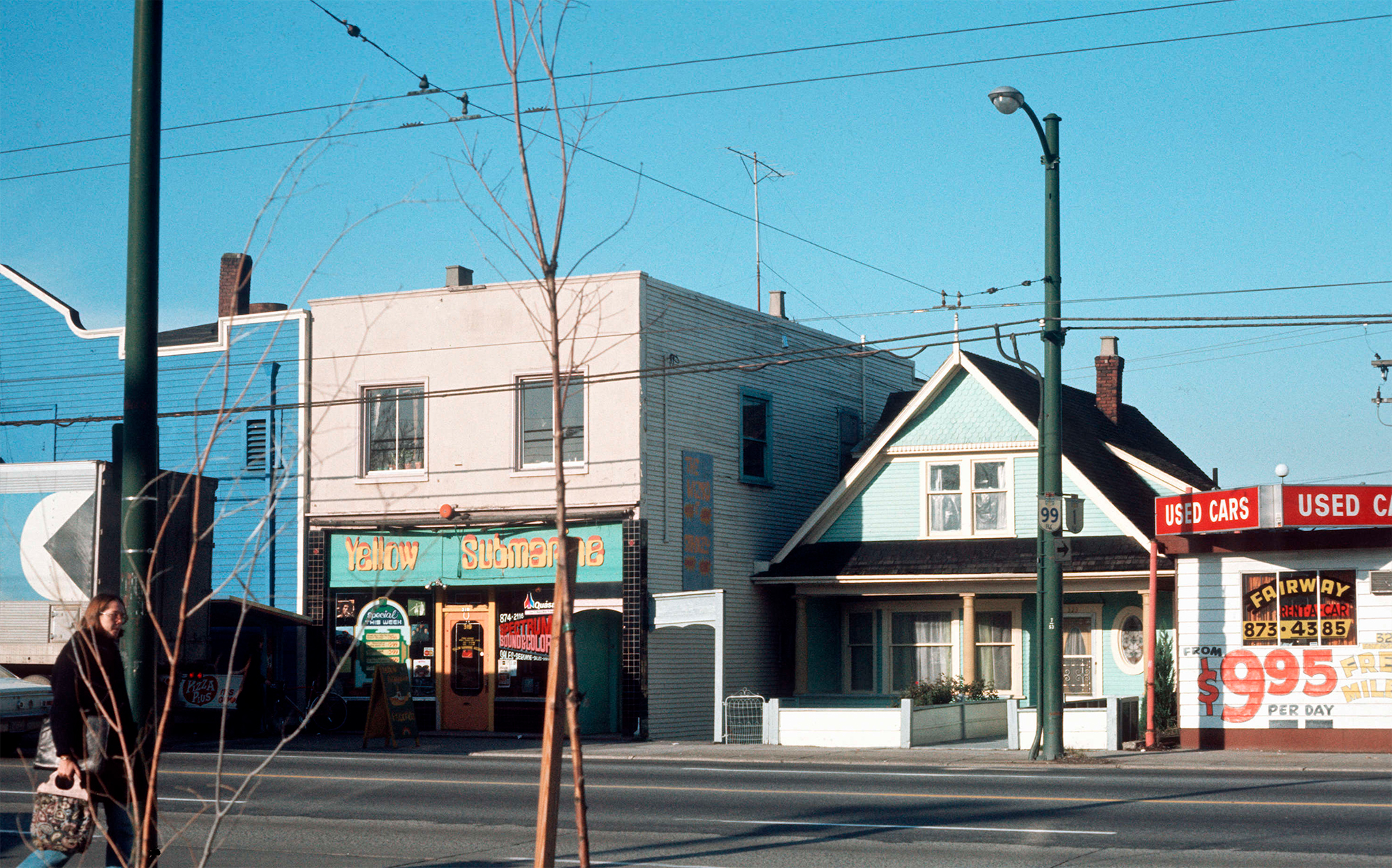 Added Jun 5, 2020
The Roxborough, 1928 and 2020.
Yet another beautifully preserved apartment building in South Granville, complete with parapets and unique arched doorways.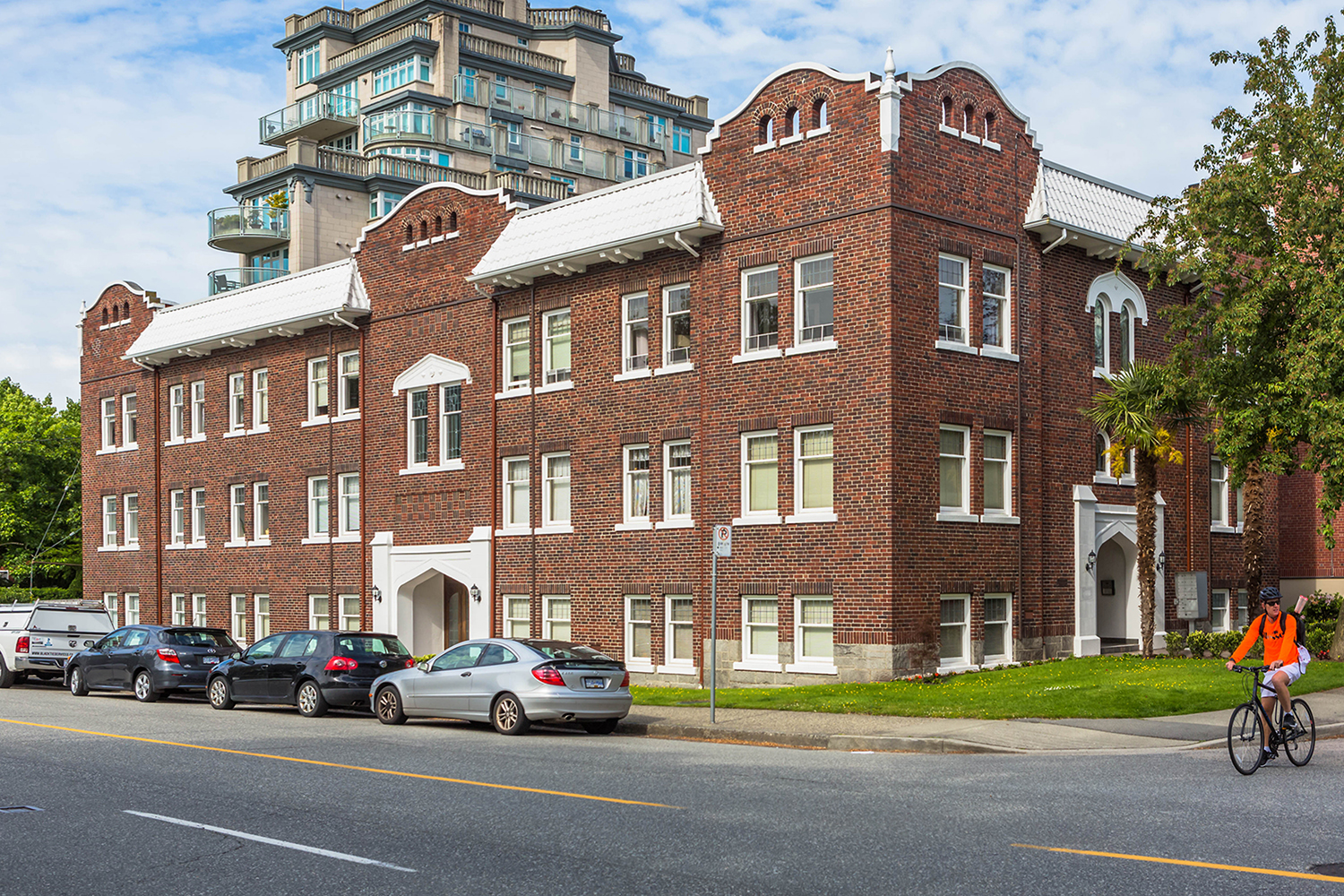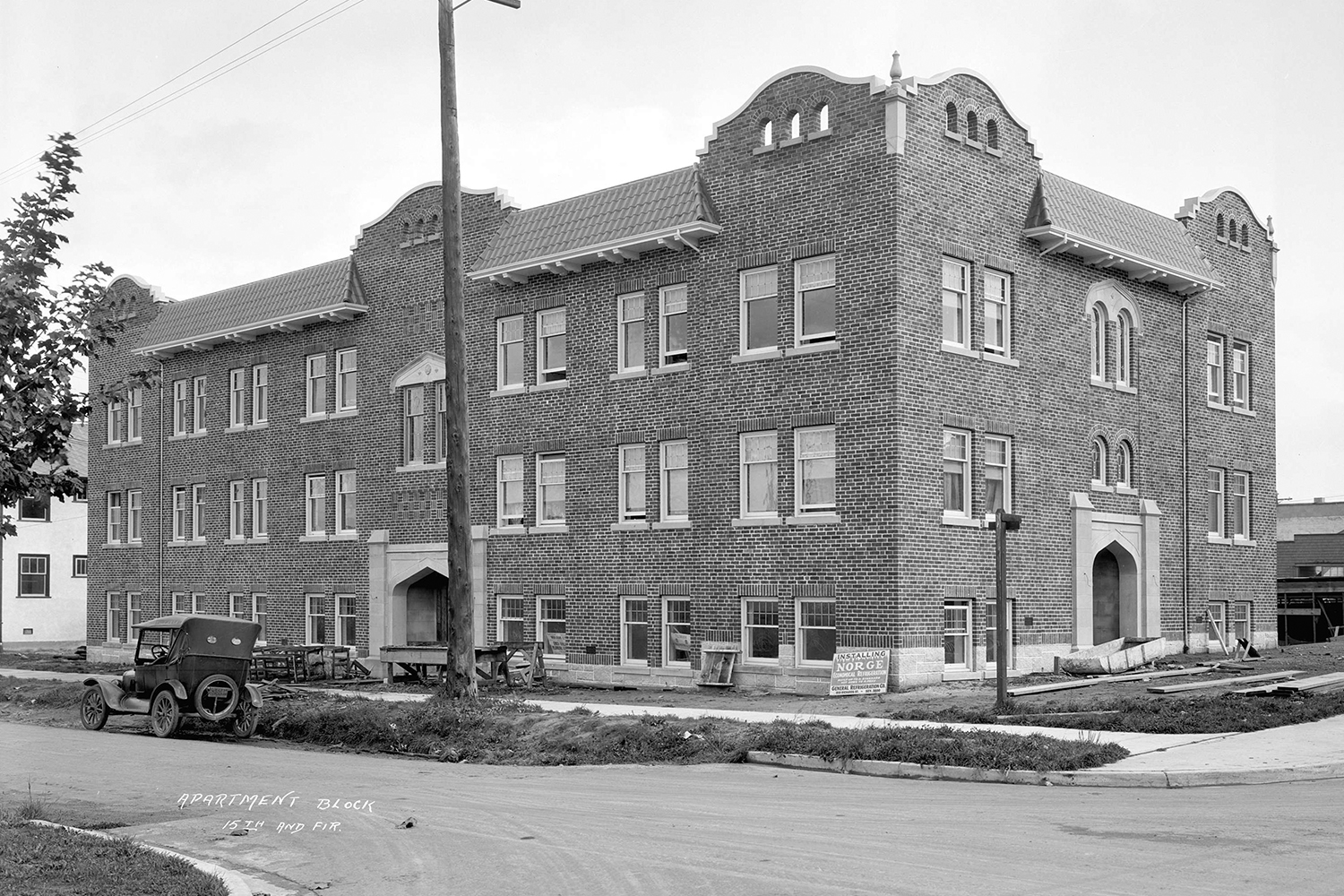 Added June 2, 2020.
Vancouver Kid's Market, 1918 and 2020.
The building that currently houses the Granville Island Kid's Market used to manufacture white lead, a toxic substance used on the hulls of boats.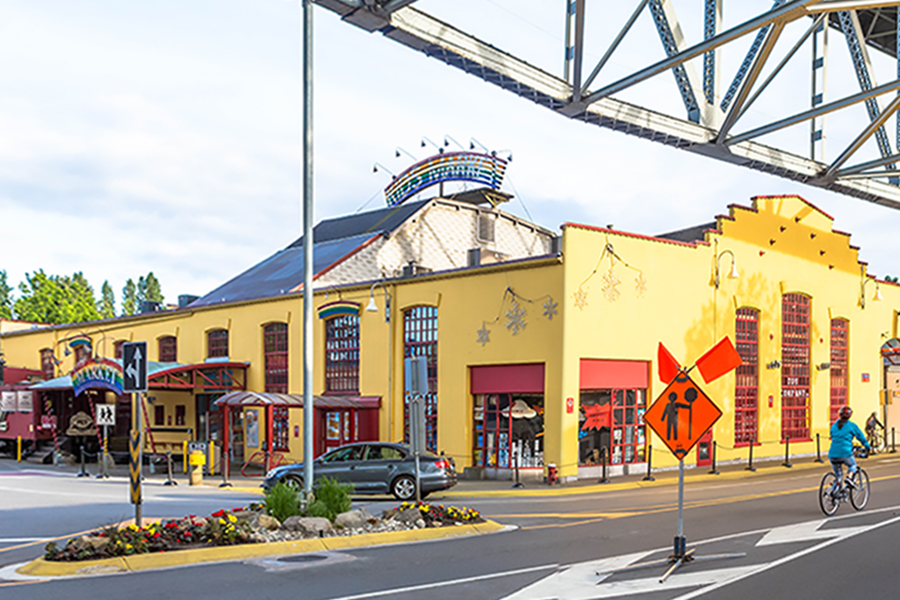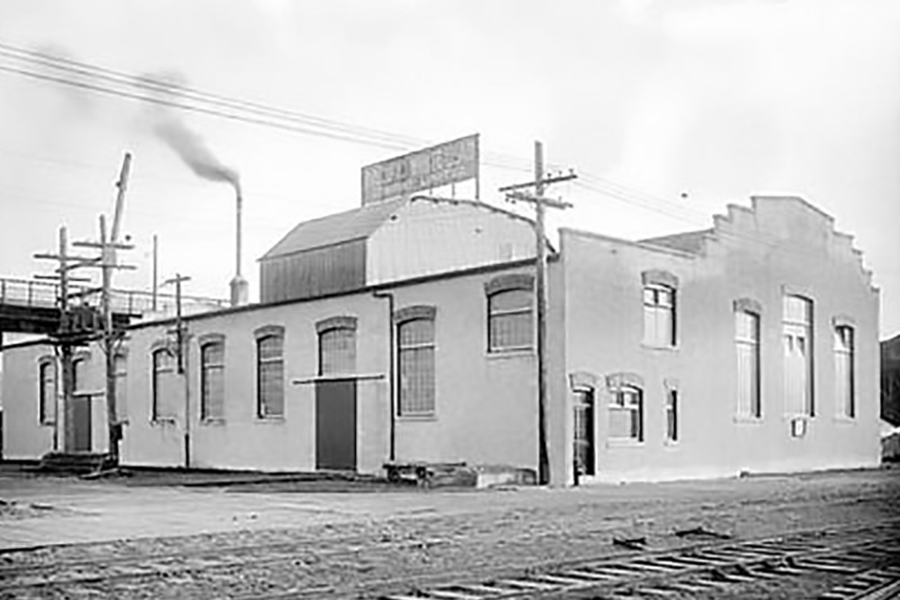 Granville Island Public Market, 1930s (?) and 2020.
Between 1931 and 1953, Wright's Canadian Rope Company occupied what is now part of the Public Market. In that time they produced wire rope for the Army during WW II as well as international projects like the Sydney Harbour Bridge.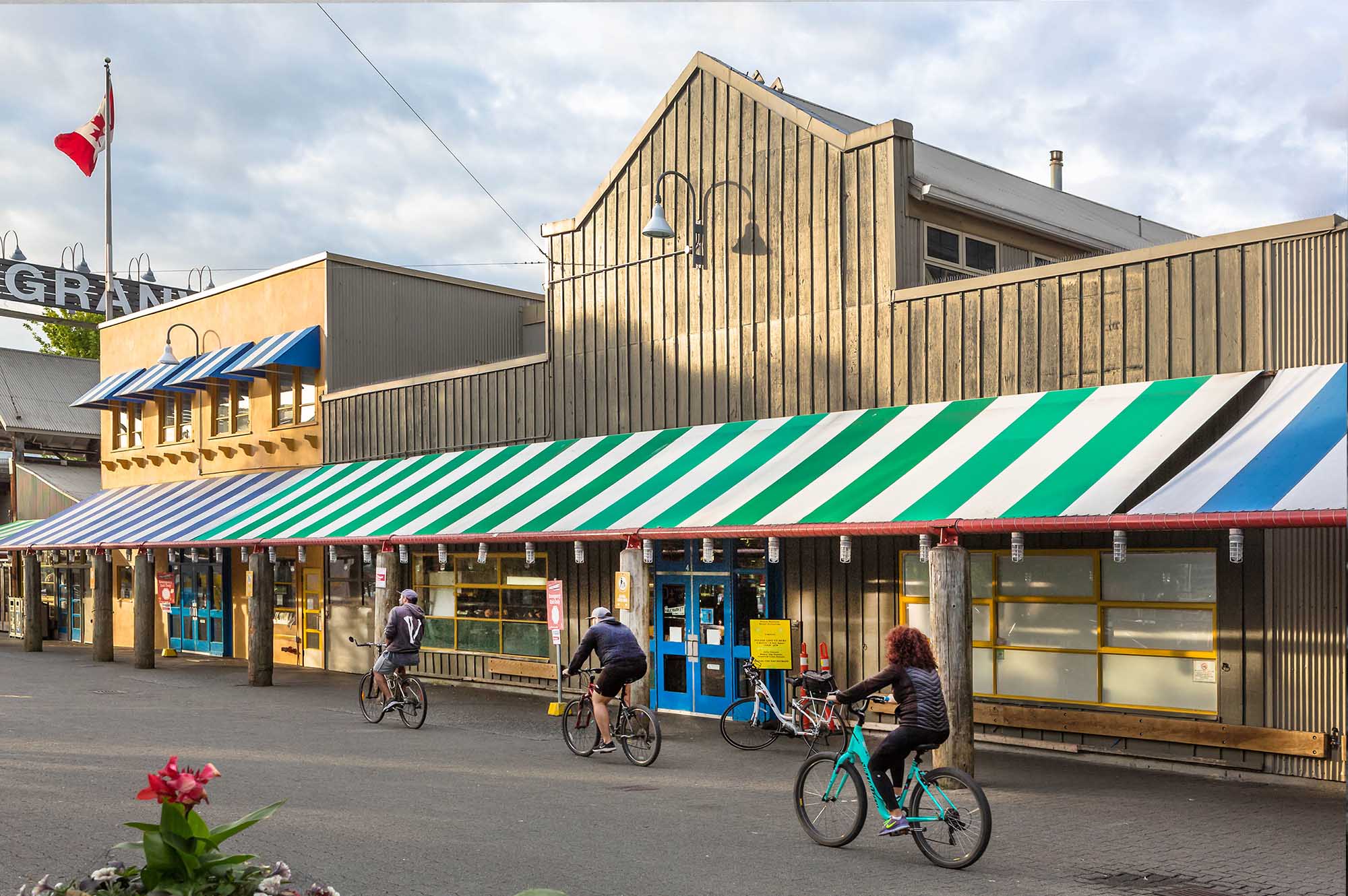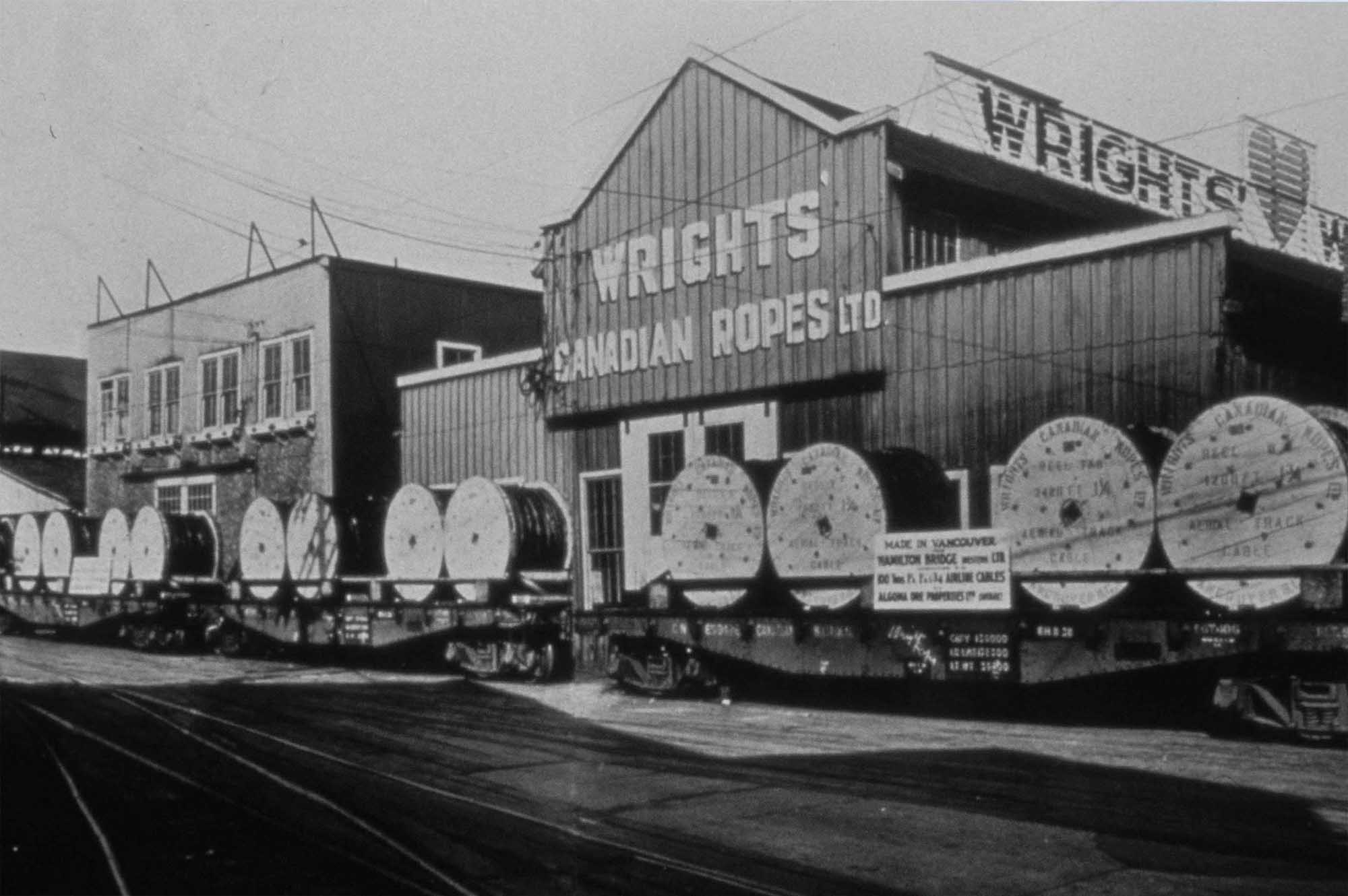 Added May 30, 2020.
Nichol House, 1918 and 2015.
I took this shot when the house came up for sale in 2015, and came across the vintage photo taken 97 years earlier from exactly the same spot where I was standing. Spooky. Three of Vancouver's most prominent families have called it home over the years.  It sits on an acre of land just minutes from the downtown core, a rarity reflected in its recent selling price. As an added bonus, the most recent seller threw in a horror story to sweeten the deal.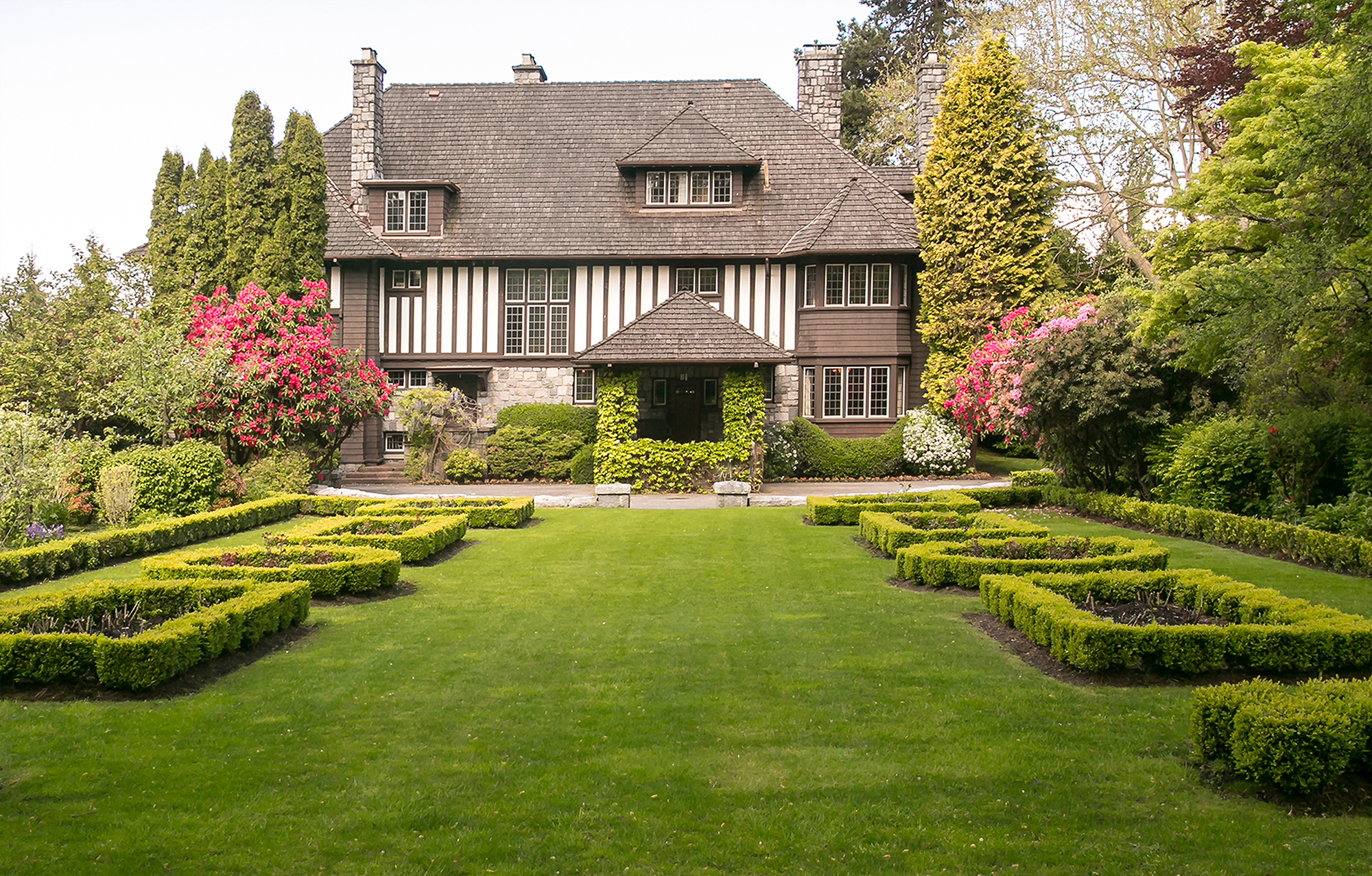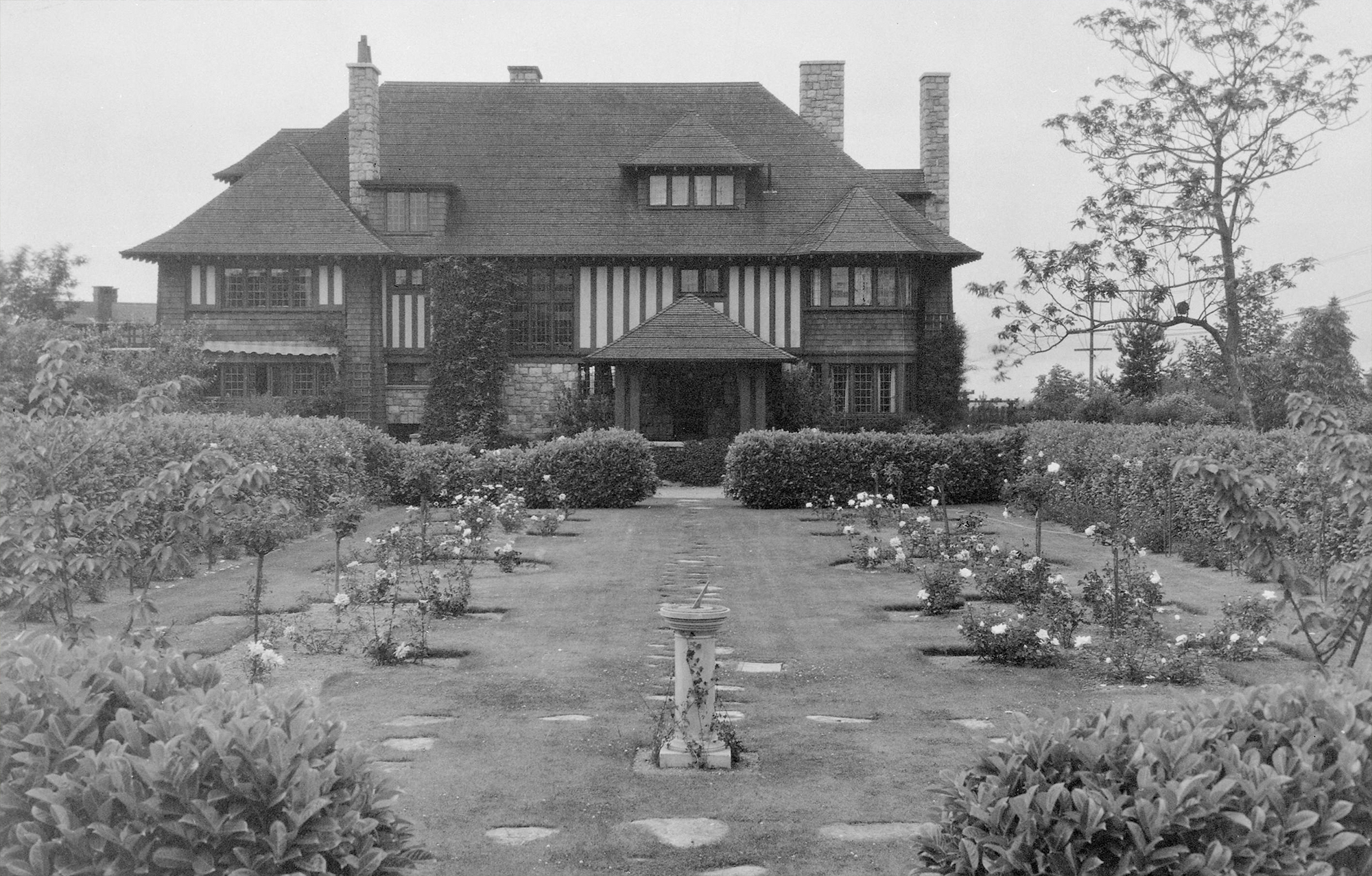 10th and Main, 1958 and 2020.
Virtually unchanged (except for the tenants and a paint job) since the late 1950s and possibly longer. Buildings like these, as plain as they are, give Mount Pleasant an authentic charm which is rapidly disappearing from the Vancouver landscape.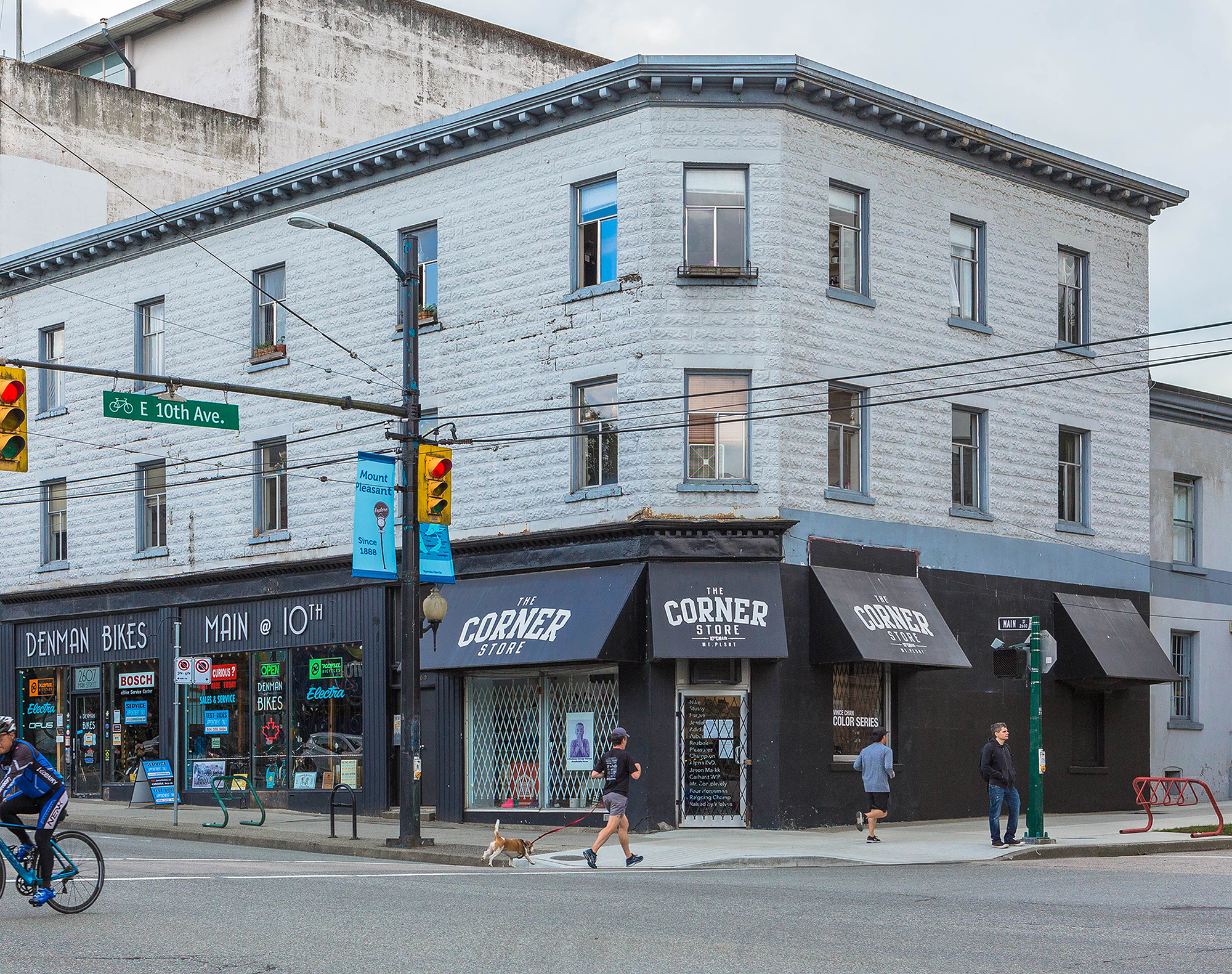 Fairmont Apartments, 1927 and 2020.
This happy little building has been sitting at the corner of 10th and Spruce for 93 years. The colourful awnings have been replaced by even more colourful ivy, which turns bright red in the fall. I wonder if the little saplings on Spruce Street are the same trees that are in my picture.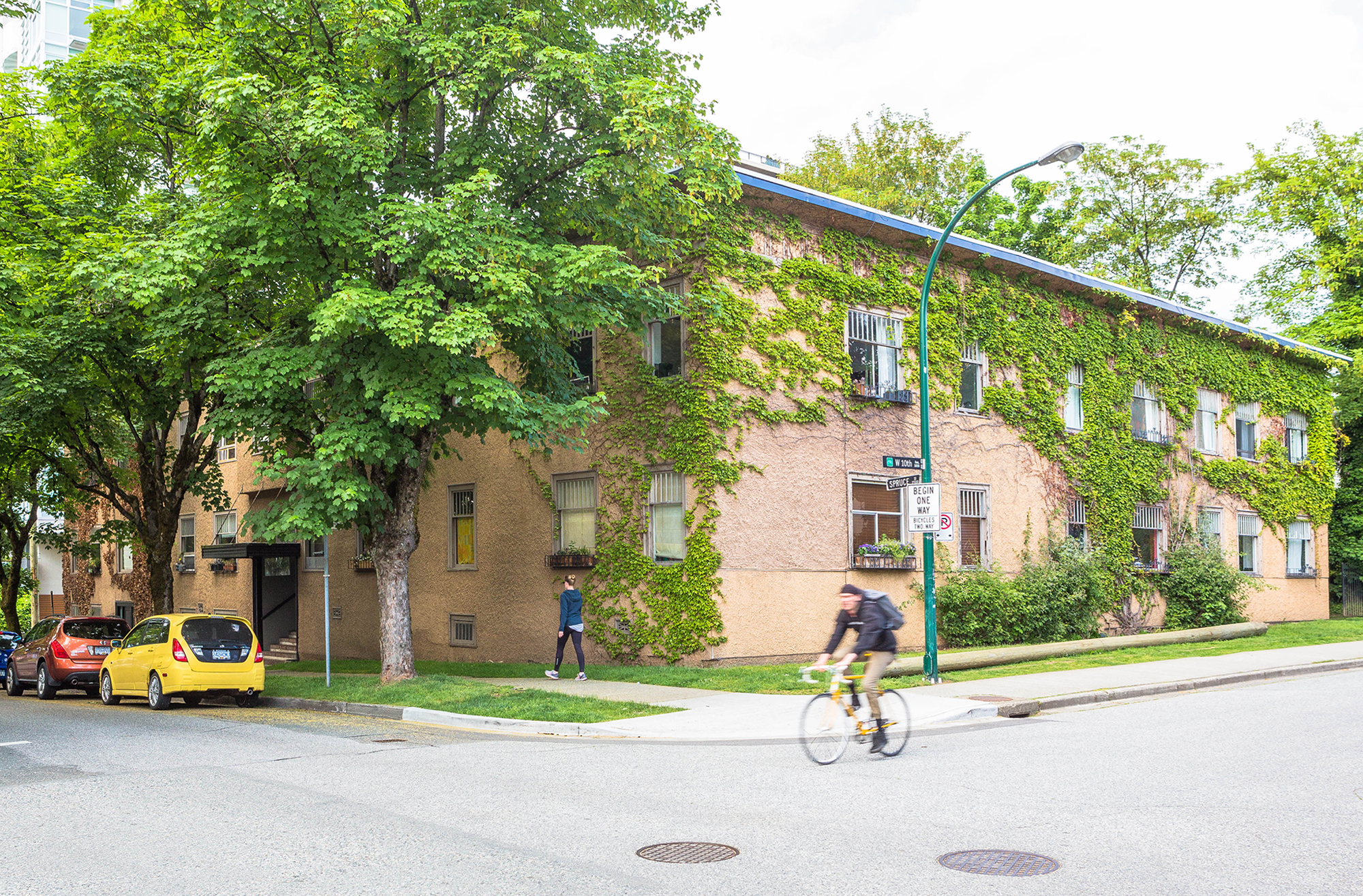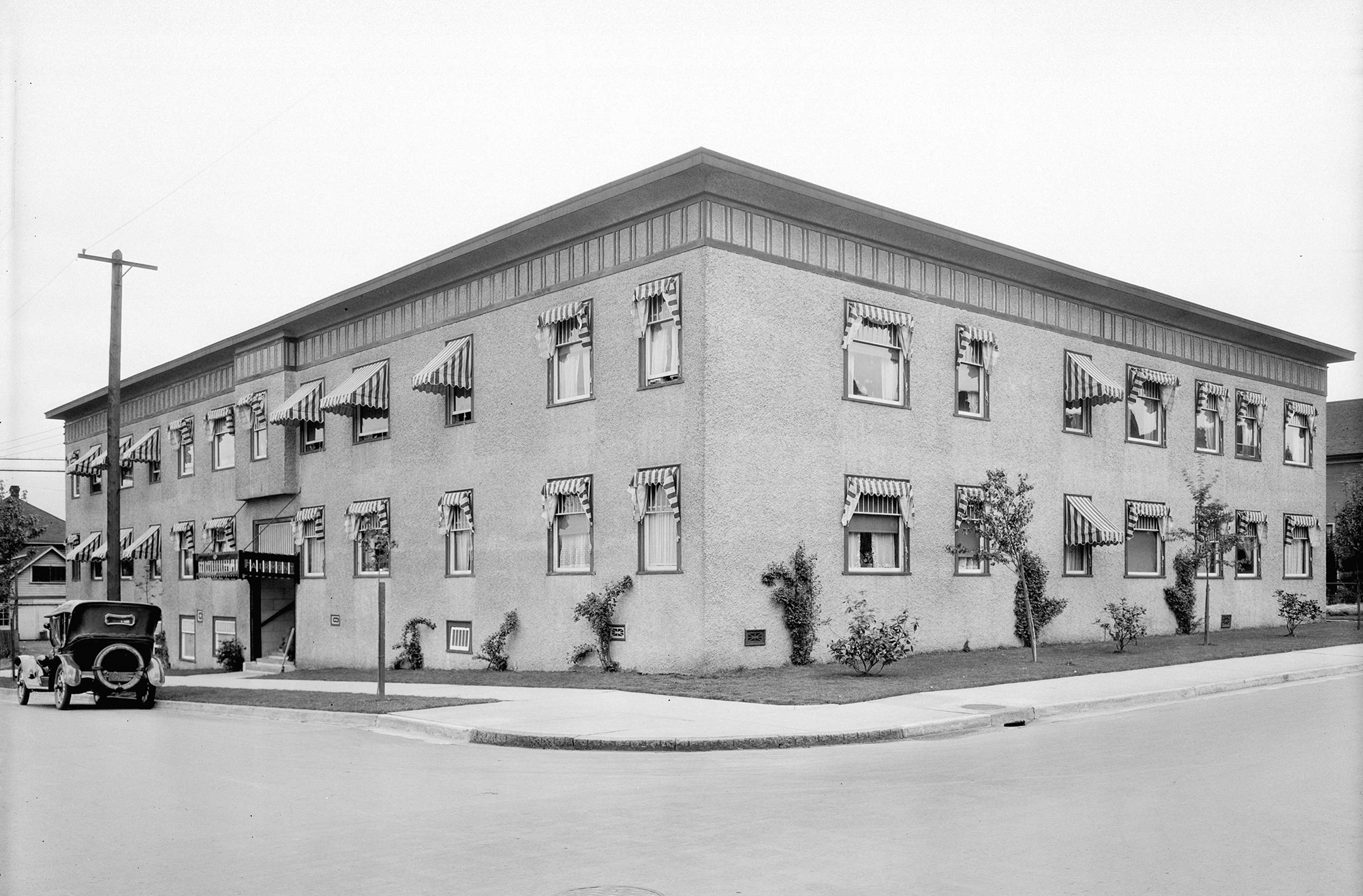 Smithe and Beatty, 1926 and 2020.
Home of the Liquor Control Board Warehouse back in the day, now it's a pricey private school.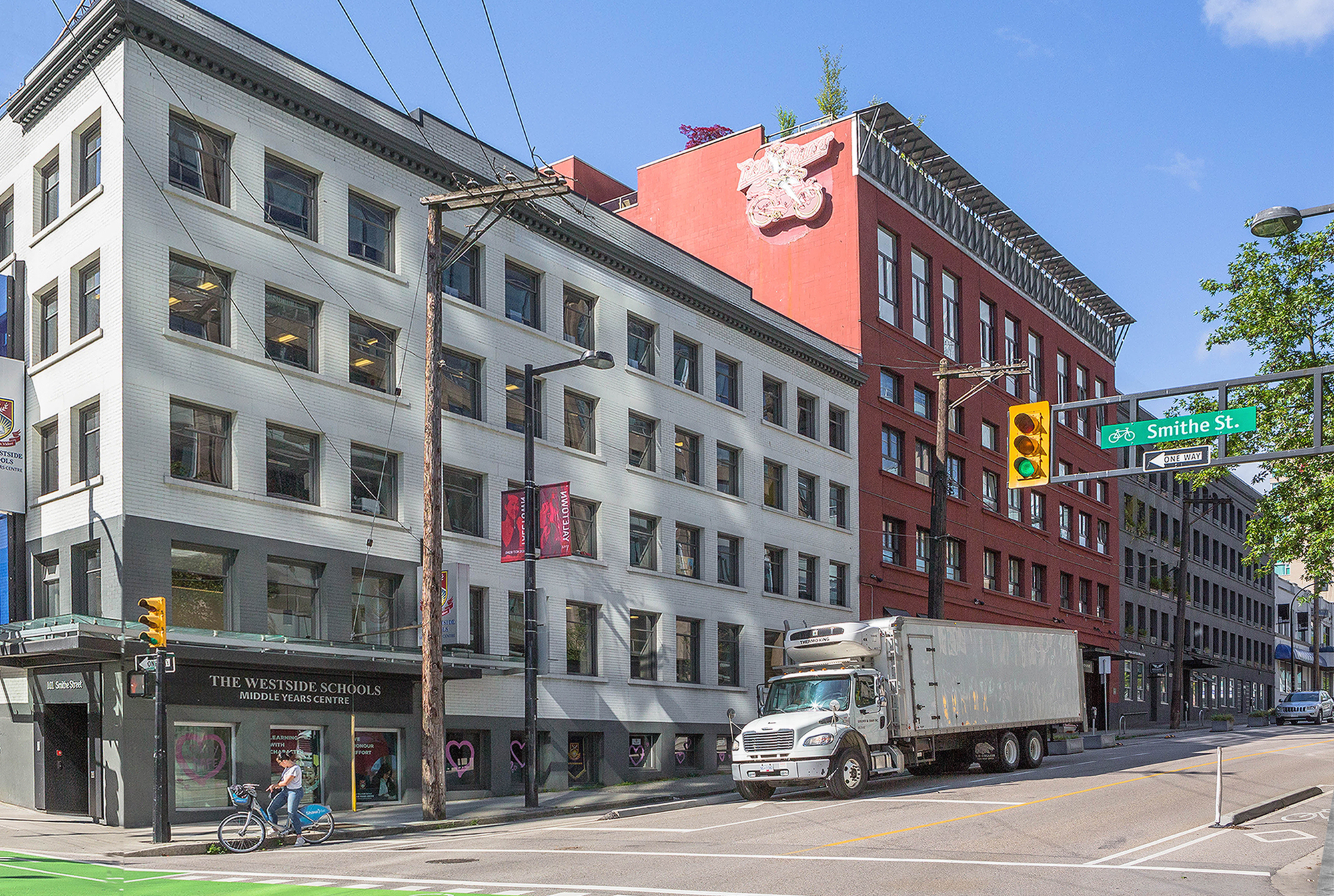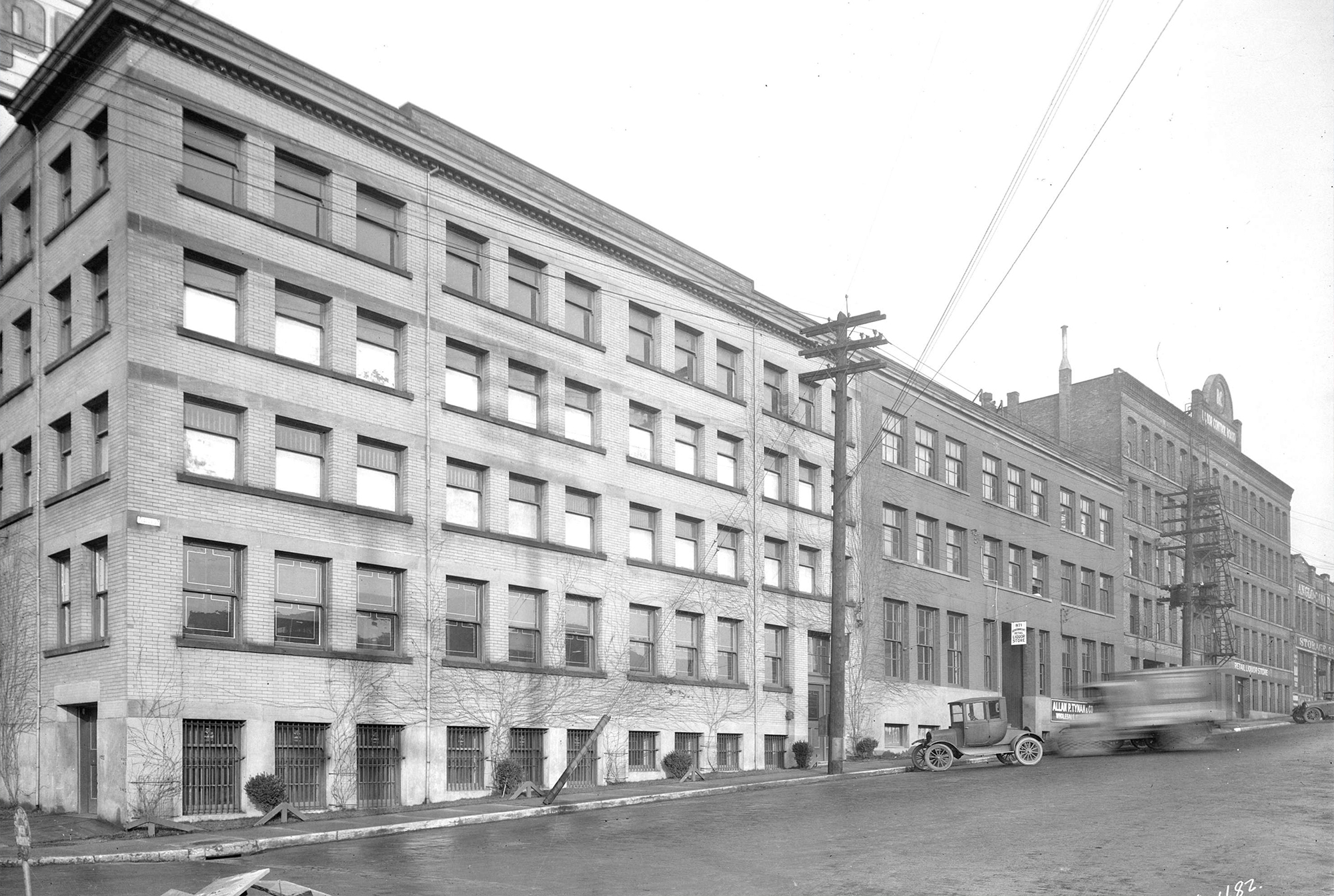 Added May 29, 2020.
Stanley Theatre, 1948 and 2020.
I would venture to say that most people in Vancouver have been inside the historic Stanley Theatre at least once. Built in 1930, it lasted as a movie house until 1991, and after a few years in development limbo, emerged as the home of the Arts Club Theatre Company.