2021 Update:
I have created a standalone website for all of my now and then photos, so that is where I will be adding new photos from now on. It has an interactive  map, an area for comments and some other interesting features. Check it out, it's at
Despite the ever-growing forest of towers and townhouses slowly engulfing the city, there are still a few buildings here and there that have survived the wrecking ball. I've spent these last few months of solitary confinement combing through Vancouver's photo archives looking for some evidence that Vancouver actually did have an architectural past. Not a glorious, castles-and-chateaus kind of past like some places, but a good solid century of civilization.
I have found quite a few buildings and landmarks that are still recognizable today, and have lined them up with a current photograph from the same location. At least I've tried to. It's hard to accurately replicate the location, height, and focal length of the original shot, so in many cases the perspectives are a little off. One thing I've noticed: there are a hell of a lot more trees now than there were then, and they get in the way of a lot of my shots!
Here are a few, and I will continue adding more as long as I'm allowed outside. (If you didn't figure it out already, you can use the slider to swipe between the old and new images.) My thanks to the City of Vancouver Archives, the Vancouver Heritage Foundation, and a number of blogs that have chronicled the history of these structures much better than I have.
Note: The pictures are quite big and it might take a moment for them to show up on your phone, so just be patient.
Added November 22, 2020.
Maxine Beauty School, 1936 and 2020.
If you have ever driven down Davie Street toward Denman you would have noticed this West End landmark. Its unique architecture is matched by the legends that surround it, including bootlegging, brothels, and secret tunnels to the Rogers family mansion a few blocks up the street. All that remains is the front façade of the original building. The rest has been gobbled up by a 21-storey condo development – its 4 floors of underground parking failed to unearth any tunnels, but did awaken a few ghosts.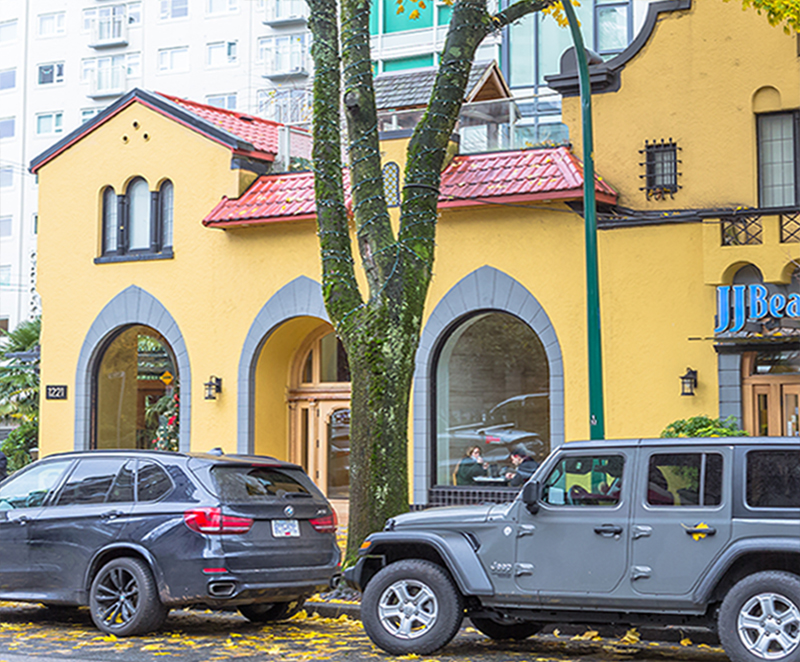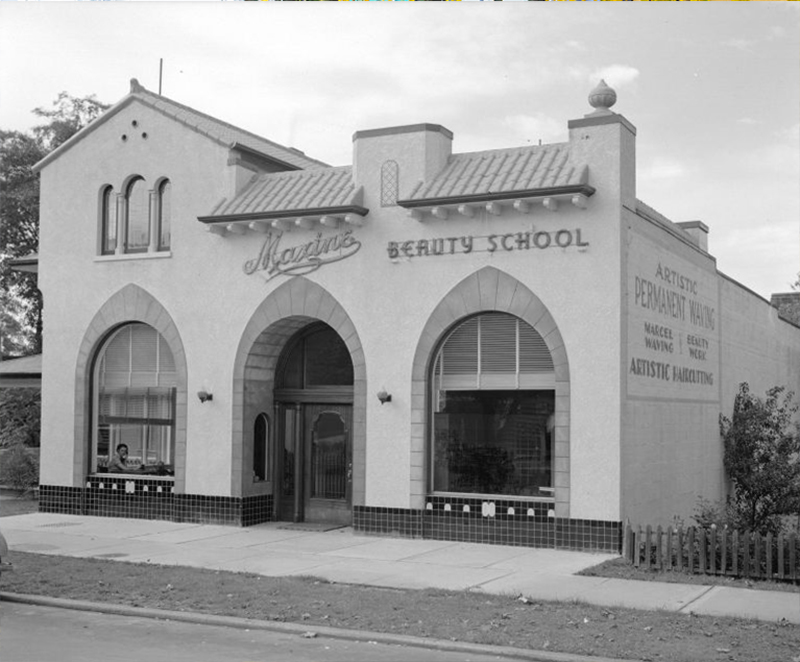 The Marlboro Apartments, 1928 and 2020.
This 1928 image shows the Marlboro in the last stages of completion, and as you can see it hasn't changed much over its 92-year life. It was built by one of the Lightheart Brothers, prolific builders of apartment buildings in the West End.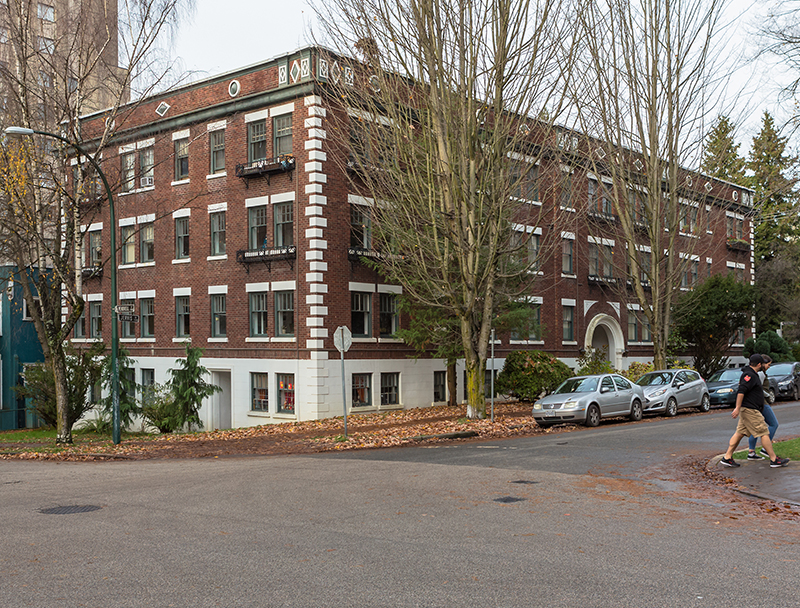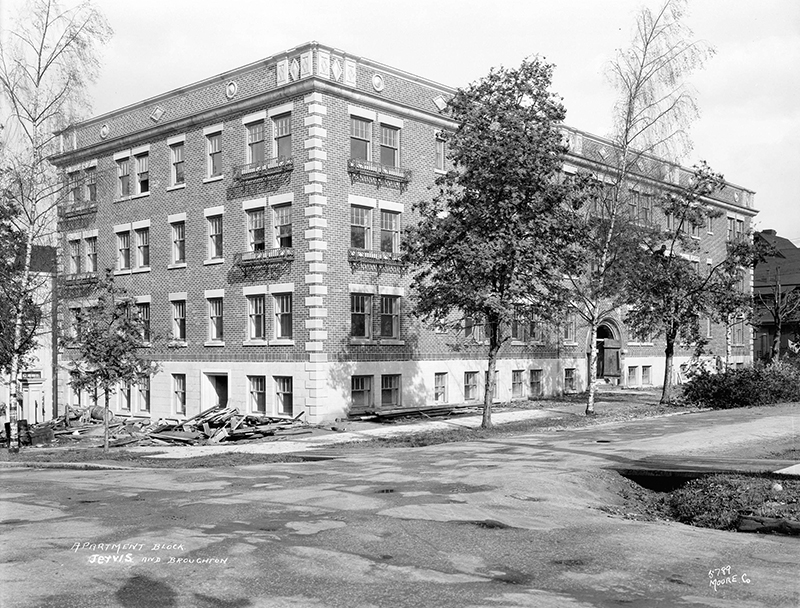 Haywood Bandstand, 1912 and 2020.
If you look closely you can see two small children posing in front of the bandstand. When I was there the other day, a homeless guy was encamped under the shelter of the overhang. The Heritage Foundation claims it was built in 1914, but the photograph is dated 1912. The North Shore mountains in the background of the old photo appear much closer than in my shot, because the original photographer used a much longer lens than mine. You can see the old English Bay Pier in the background.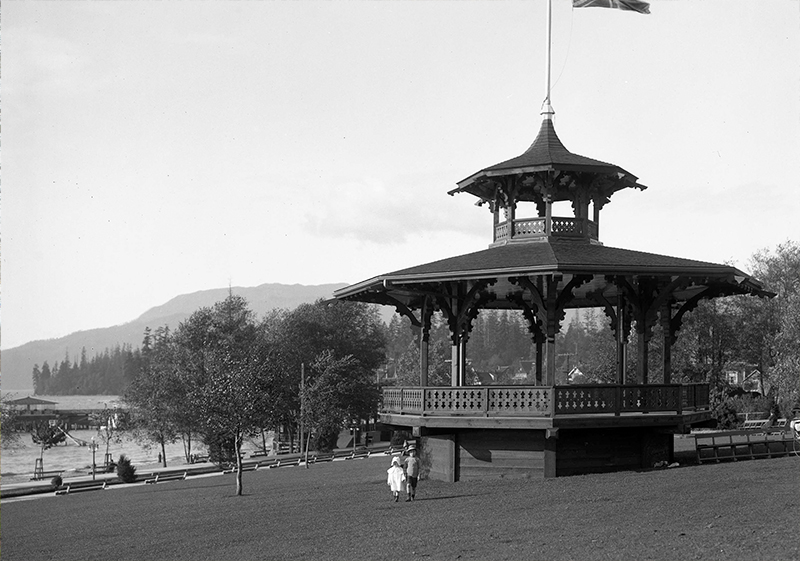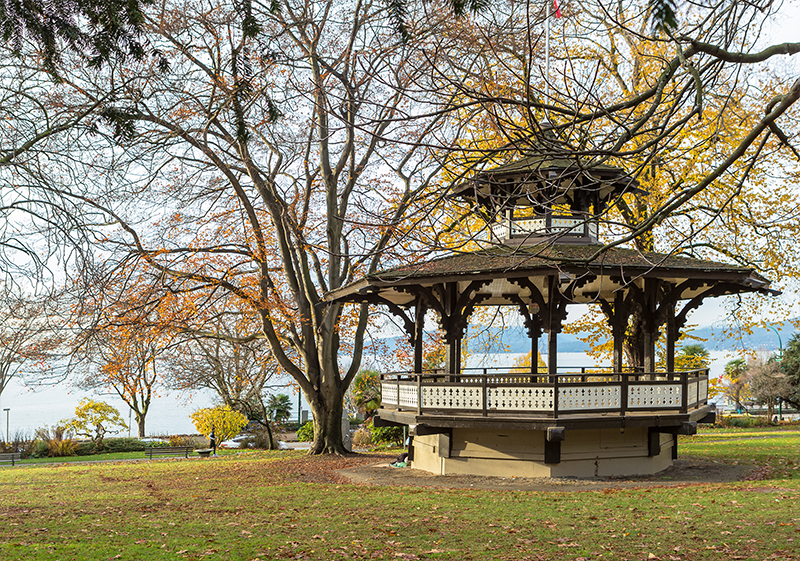 The Queen Charlotte, 1928 and 2020.
The West End experienced a massive building boom during the 1920s, including the Marlboro (above), and the Queen Charlotte, pictured here. Built by Dominion Construction for a businessman and politician named H H Stevens, who beliefs in white supremacy led to his active involvement in the shameful  Komagata Maru incident. It was restored by the late Robert Ledingham and now consists of 25 million-dollar condos.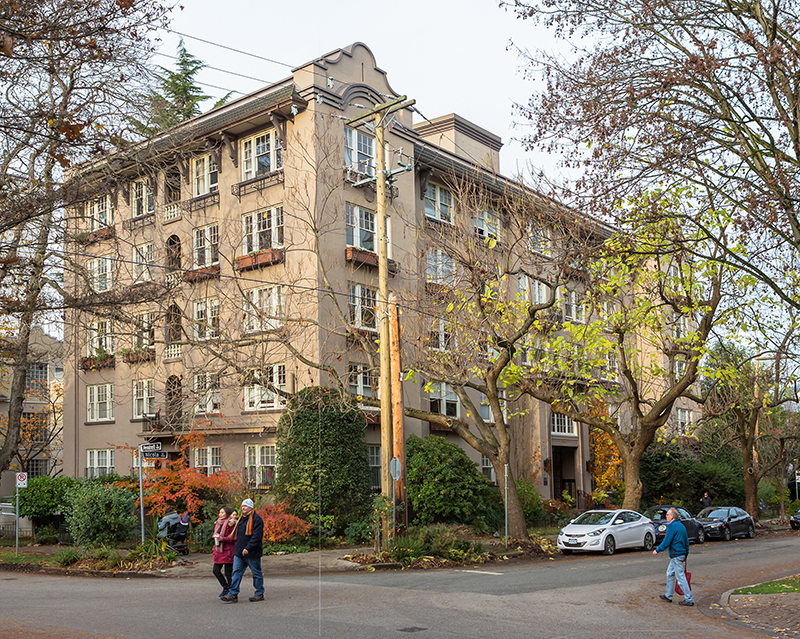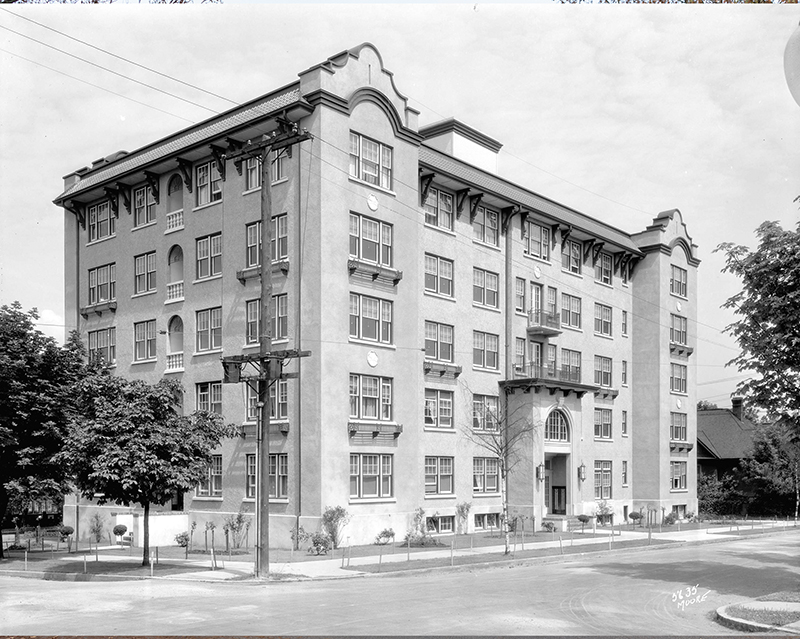 Washington Court, 1919 and 2020.
When it was built in 1910, this building had five floors. Several months later, a sixth floor was added, shown in this picture. In 1966 a fire destroyed the top floor and it went back to 5.  In 2018 another fire damaged several suites.  And that's the 'storey' of Washington Court.